Unsolved Mysteries
Definition: Unsolved Mysteries is an American television program, hosted by Robert Stack from 1987 until 2002 and later by Dennis Farina starting in 2008.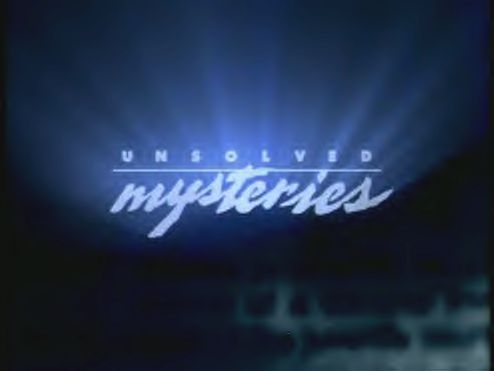 Unsolved Mysteries is an American television program, hosted by Robert Stack from 1987 until 2002 and later by Dennis Farina starting in 2008. In addition, TV presenter Keely Shaye Smith (married to Pierce Brosnan) and actress Virginia Madsen contributed greatly to its success. Keely Shaye played the role of a reporter from the confines of an office interacting with Stack and responding to questions for further information. In this capacity, she was a welcomed addition to the cast and revered tremendously by Stack, who would "cut to" her for more detailed information. Academy Award nominated actress Virginia Madsen's contribution to the show included performing in Stack's role as announcer for several years. It was broadcast first as specials in 1987, then as a regular series on NBC (1988-1997), CBS (1997-1999), Lifetime (2001-2002) and Spike (2008-2010). Lifetime once again airs the revived version of the series, but only in reruns.
Although the show is not in current production, Cosgrove-Meurer Productions maintains a website for the show, featuring popular accounts and still unsolved crimes (murder or missing persons), with a link to an online form should a viewer have information on an unsolved crime.
Unsolved Mysteries used a documentary format profiling real-life mysteries and featured reenactments of unsolved crimes, missing persons, conspiracy theories and unexplained paranormal phenomena (alien abductions, ghosts, UFOs, and "secret history" theories).
The concept was created upon a series of three specials produced by John Cosgrove and Terry-Dunn Meurer which were pitched to NBC in 1985 and shown in 1986 with the title, "Missing... Have You Seen This Person?". The success of the three programs led Cosgrove and Meurer to broaden the program to include mysteries of all kinds.
The pilot of what eventually became Unsolved Mysteries was a special that aired on NBC on January 20, 1987 with Raymond Burr as host/narrator to a rousing success. Throughout the 1987/1988 season, six more specials aired with the next two being hosted by Karl Malden and the final four by its eventual host, Robert Stack.
In 1988, the show became a weekly run series on NBC, although it lost some of its popularity after the 1993-1994 season. Until 2002, it was hosted by Stack, and during its second seaon on CBS, co-hosted by Virginia Madsen in 1999. Episodes from 1994-1997 featured journalist Keely Shaye Smith and television host Lu Hanessian as correspondents in the show's telecenter, from where they provided information on updated stories. A March 14, 1997 episode featured journalist Cathy Scott in the reenactment of rapper Tupac Shakur's 1996 unsolved murder. The last original segment aired on September 20, 2002, and eight months later, on May 14, 2003, Robert Stack died of heart failure. In 2008, television network Spike revived the series with Dennis Farina as its host. Farina died of a blood clot in 2013.
The show was well known for its eerie theme song composed by Michael Boyd and Gary Remal Malkin, as well as Stack's grim-faced presence and ominous narration. The theme song was later changed four times in 1993, 1995, 1997, and 2001 until the show ended in 2002. When it was revived in 2008, the theme and music used were changed to up-beat rock music.
Much earlier, CBS had aired an unsuccessful similar half-hour crime documentary series entitled Wanted during the 1955-1956 season, hosted by Walter McGraw.
Collections:
Paranormal TV Shows
Related Categories:
| Paranormal TV show listing | by Sharon Hill | Ghost Adventures | The Dead Files | In Search Of | Celebrity Ghost Stories | The Haunted | Beyond Belief - Fact or Fiction | Ghost Lab | Psychic Kids | Destination Truth | Ripleys Believe It or Not | My Ghost Story | Chasing UFOs | Haunted History | Finding Big Foot | When Ghosts Attack | Paranormal State | Sightings | The Haunting Of | The Scariest Places on Earth | Ghost Hunters | Ghost Hunters International | Haunted Collector | Truth or Scare | Weird Travels |
Resources:
db#860
What are your thoughts?