Haunted Collector
Definition: Haunted Collector is an American television reality series which airs on the Syfy cable television channel.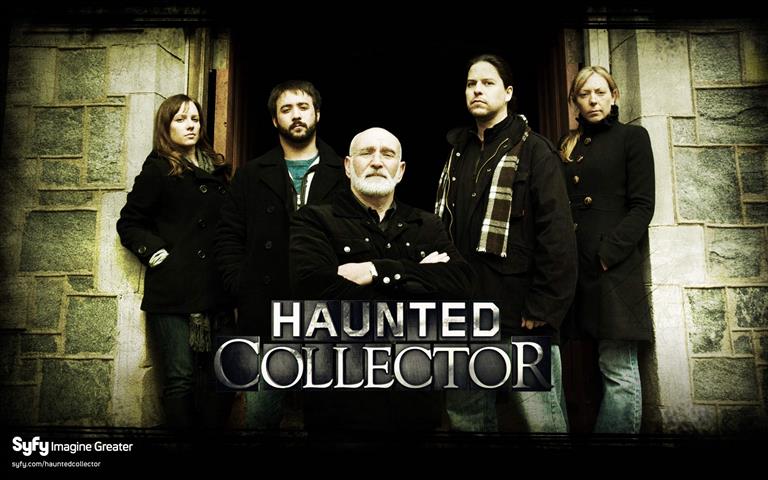 Haunted Collector is an American television reality series which airs on the Syfy cable television channel. The first season premiered on June 1, 2011, and ended on July 6, 2011. The series features a team of paranormal investigators led by demonologist John Zaffis, who investigates alleged haunted locations with the hopes of identifying and removing any on-site artifacts or trigger objects that may be the source of the supposed paranormal or poltergeist activity.
The production of the second season started in December 2011, and premiered on June 6, 2012.
On September 17, 2012, Syfy announced that the series has been renewed for 12-episode third season, which premiered on March 6, 2013.
On November 8, 2013, it was announced that Syfy had cancelled Haunted Collector.
Demonologist John Zaffis, and his family, investigate the sites of alleged paranormal occurrences. The Zaffis family and their team travel around the world to investigate items that Zaffis identifies as having something to do with spirits or energies. Zaffis removes the items from the location and takes them to his haunted relics museum located in a barn on his property in Stratford, Connecticut.
According to Zaffis, an artifact itself may either be of a paranormal nature such as a religious object once used in occult rituals or a non-paranormal nature such as an antique purchased at an estate sale or garage sale. Once an artifact is deemed to be a possible source of paranormal activity, it is removed from the premises in hopes that the activity in the location being investigated will be mitigated or cease altogether. The artifact is then housed in John Zaffis' paranormal artifact museum.
Collections:
Paranormal TV Shows
Related Categories:
| Paranormal TV show listing | by Sharon Hill | Ghost Adventures | The Dead Files | In Search Of | Celebrity Ghost Stories | The Haunted | Beyond Belief - Fact or Fiction | Ghost Lab | Psychic Kids | Destination Truth | Ripleys Believe It or Not | My Ghost Story | Chasing UFOs | Haunted History | Finding Big Foot | When Ghosts Attack | Paranormal State | Sightings | Unsolved Mysteries | The Haunting Of | The Scariest Places on Earth | Ghost Hunters | Ghost Hunters International | Truth or Scare | Weird Travels |
Resources:
db#865
What are your thoughts?