The Miracle Of Loretto Chapel
Definition: The mysterious carpenters of the Loretto Chapel Staircase.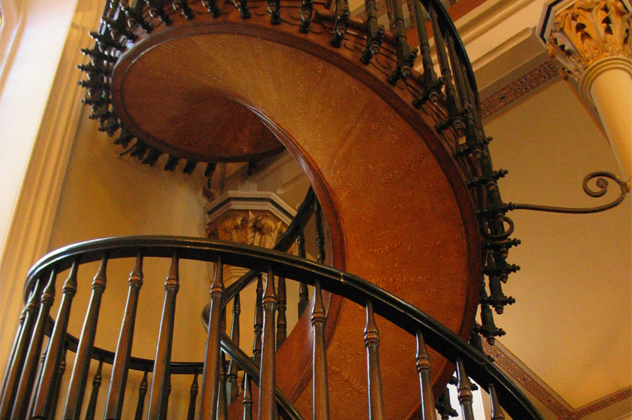 These days, religious miracles seem to be in terribly short supply. A pall has even been cast over such seemingly infallible characters as Mother Teresa. But New Mexico's Loretto Chapel, built in 1878, might just give credence to idea that saints walk among us.
During the building of the chapel, the architect was shot to death, and when the project was completed, the building was missing one key feature: a way to get to the choir loft, which was 6.7 meters (22 ft) above the ground. There was no room for a conventional staircase, and the nuns were averse to using ladders because they were afraid of snagging their long habits. The legend goes that the sisters of Loretto prayed for nine days, and on the final day, a bedraggled man arrived on a donkey and asked permission to solve their problem.
Using only the most basic of tools (not even nails), he created a glorious winding helix staircase over the course of a few months. At first glance, the structure seems to defy the laws of physics, as it appears to have no central means of support. Upon finishing, the unidentified carpenter simply went on his way without being paid. The nuns, taken by the majesty of his creation, believed that the man was none other than St. Joseph, patron saint of carpenters. Other theories have been advanced, probably the most plausible being that the man was an itinerant French carpenter named Francois-Jean Rochas.
The staircase itself has since been thoroughly examined, and while beautiful, it is not exactly a marvel. The helix is so tight that the center portion acts as its own support, keeping it from toppling over. It has also been judged as very unsafe, acting as a spring when people climb on it. Today, the Loretto Chapel is privately owned, and frequently stages weddings where couples are allowed to pose on the staircase.
Collections:
Assorted Bizarre or Paranormal Items
Related Categories:
| XXX | Berkowitz, David | predictive programming | The remains of Ludwig van Beethoven | Suicide Bridge |
Resources:
db#996
What are your thoughts?