Suicide Bridge
Definition: The paranormal story behind Pasadena's Colorado Street Bridge.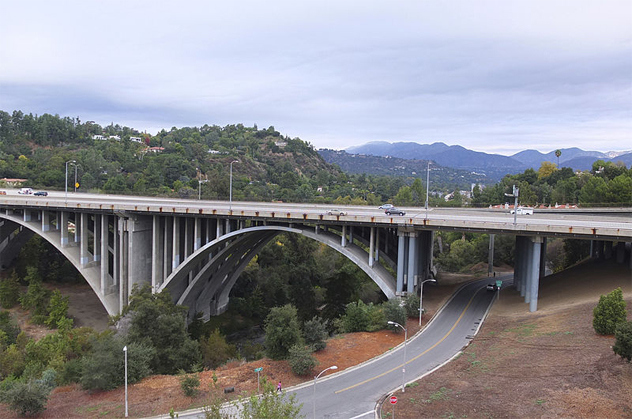 Bridges are notorious hotspots for despondent people to commit suicide. San Francisco's Golden Gate Bridge has hosted nearly 2,000 suicides and counting. There were at least 10 suicides in August 2013 alone. Pasadena's Colorado Street Bridge, built in 1913, certainly has a lower death count, but is no less creepy. One of the 100 or so tragedies that occurred here happened on May 1, 1937, when a mother hurled her infant daughter over the side and then made the leap herself. Amazingly, the baby got snagged in some tree limbs and lived, while the mother smashed into the riverbed below.
Unfortunately, legend has it that those who choose to take their lives here often refuse to pass on. Witnesses have reported seeing a ghostly man in wire-rimmed glasses walking the span of the bridge, along with a woman in a long robe plunging off the edge, doomed to repeat her final act. Creepiest of all, spectral beings are said to wander in the riverbed below, wailing and beckoning to the self-destructive to join them.
Collections:
Assorted Bizarre or Paranormal Items
Related Categories:
| XXX | Berkowitz, David | predictive programming | The remains of Ludwig van Beethoven | The Miracle Of Loretto Chapel |
Resources:
db#995
What are your thoughts?