Casablanca Inn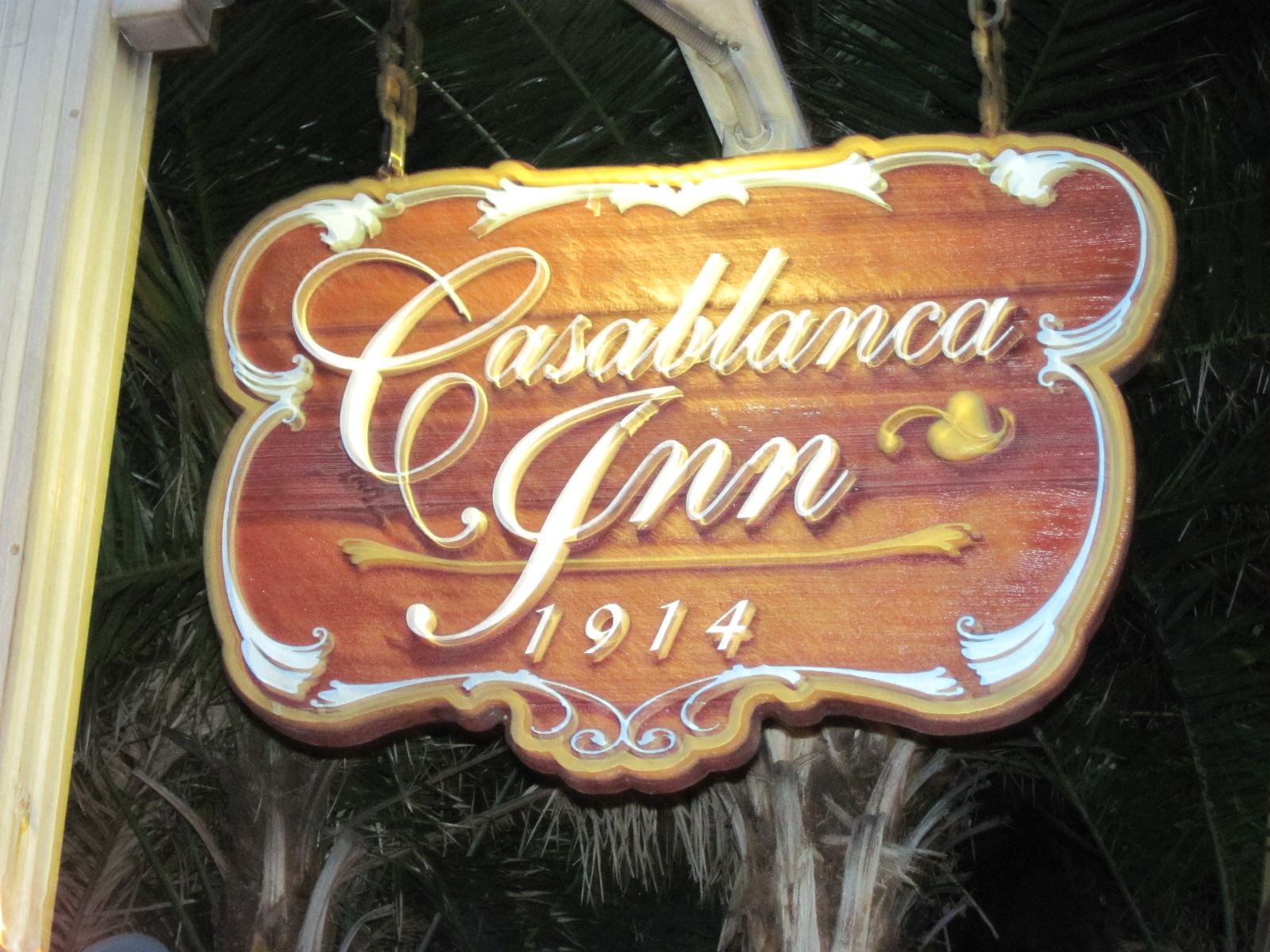 Photo by:
Marianne Donley
Location submitted by:
sdonley
on 02/16/2015
DBA Approved: Y
Larger Map
PANICd#: 1524

Casablanca Inn can be found on Avenida Menendez, right across the street from beautiful Mantanzas Bay, just north of the Bridge of Lions.
24 Avenida Menendez
St. Augustine , FL 32084
Phone: (904) 829-0928
Open to the public: Yes
Lat: 29.8947842
Lon: -81.3113854
Database Summary:
Demographic Rank: 6
History: 1
Stories: 1
Claims: 7
Evidence: 0
Resources: 4
Retrievals: 8584
Vistor Rating: 0.0
Votes: 0
History
History information is some background and history about the location. This is meant to be a basic summary. Below the history records you will find sources in which you can click on to find out more information. There may be multiple history records per location.
---
This Mediterranean revival two-story inn and its Carriage House were built in 1914, and both have been restored to their former glory and renovated, just recently, to serve the needs and desires of their guests. This lovely upscale inn is a truly beautifully redone two-story building, with 10 suites, 2 rooms in the Main House, that can be found on both floors. All of the rooms that face the bay have large windows so that the view of the Mantanzas Bay and the St. Augustine Lighthouse can be enjoyed. The suites and rooms have all the bells and whistles, including a private outdoor porch or deck, as well as having antiques in rooms. The Coach House is directly behind the Main House and has 8 beautiful rooms, each with their own private, covered patios. The third area is called the Secret Garden, located across the street, that has 3 suites that are pet friendly, have kitchenettes, and their own dining area.
For 96 years, The Casablanca Inn building has always been some sort of boarding house or inn. In its early years, it was called Mantanzas Hotel. When it changed hands around 1920, the widow who bought the property changed the name to Bayfront Boarding House. After a few years, she again renamed her establishment, changing it to the Casablanca Inn.
During the 1920s and 1930s, this owner and operator took great pride in running a clean, comfortable boarding house, offering excellent meals, and making the Casablanca a popular place to stay because of her warm hospitality; so popular that guests had to call beforehand and make reservations. Most of her guests were traveling salesmen, G men, and some local people as well, including a few children. In the 1920s, this lady began to have financial troubles. She came up with a bold plan to make more money. Even though alcohol was illegal, some of her guests still wanted it, and because her building was in full view of the sea, she could make some money helping rum runners.
Because she knew when the agents or g-men were coming to stay at her place, while they looked for booze smugglers and the like, she set up an arrangement with the rum runners, who made their profit by smuggling into St. Augustine their illegal cargo. When she knew that no agents were in town, she would swing her lantern from the top of her inn, on the house's widow's walk, so the smugglers would know that it was safe to come into port and dump off their black market liquor. After paying her handsomely, they would quickly leave. She arranged to have a smuggler be a guest at her inn, so he could sell the black market liquor to those of her guests who wanted to imbibe.
At one point in time, she was questioned by the g-men, but was deemed not a suspect. Fortunately, she wasn't arrested by agents, or killed by a rival gang and lived very well the rest of her life, as she made a fortune. She died and was buried in Huguenot Cemetery.
Another slightly different story tells the tale of tragedy. It claims that the lady was a young widow, who came up with this plan, but that she waved the lantern when there were G-men in town. She wound up falling in love with one of the smugglers and was heart-broken when her love was killed in a big storm at sea, after she had waved the lantern to warn him.
Added by: sdonley on 08/18/2017 DB#:334
Source(s):
http://www.hauntedhouses.com/states/fl/casablanca-...

---
Stories
Stories are just that. Stories and personal accounts that have been reported about the location.
---
It is believed that the elderly lady who served as the "eyes" and "ears" of the individuals in the alcohol business would go to the second floor and wave her lantern back and forth towards the ocean when it was not safe for the bootleggers to come onshore. To date, several individuals traveling the seas, or walking nearby are said to have witnessed a light waving back and forth as to warn not to come too close. This is still observed despite the fact that this lady is buried away at the popular and haunted Huguenot Cemetery in historical downtown St. Augustine.
In addition to seeing the light that appears to be a lantern, many individuals have observed a strange, wispy fog like apparition appear in various locations on the inside as well as the outside of the Casablanca Inn. The sound of someone stepping lightly on the floorboards, people talking, and even the sounds of children playing have been heard in and around the infamous Casablanca Inn in haunted St. Augustine, Florida.
Added by: sdonley on 08/18/2017 DB#:1295
Source(s):
http://www.haunted-places-to-go.com/casablanca-inn...

---
Paranormal Claims
Here are the paranormal claims for this location. These have been found through Internet research, reports from members, or reports from personal interviews. To add a claim, please contact PANICd.com, and we will review and add your information.
---
| | | | |
| --- | --- | --- | --- |
| Claim # | Added | Added By | Claim |
| 2561 | 08/18/2017 | sdonley | Various people from several locations have reported seeing what appears to be a person waving a lantern from the widow's walk at the inn, although there is nobody up there. |
| 2562 | 08/18/2017 | sdonley | Staff and guests have heard the sound of light footfalls on the inn's floorboards throughout the inn. |
| 2563 | 08/18/2017 | sdonley | Staff and guests have heard the sound of people talking, in places where there is no one living there. |
| 2564 | 08/18/2017 | sdonley | Items are moved and found in odd places, or sometimes borrowed, but are always returned. |
| 2565 | 08/18/2017 | sdonley | Sometimes a scent of oranges that is associated with her, can permeate the room for an instant. |
| 2566 | 08/18/2017 | sdonley | It has been said that a lady's unseen presence has been felt by some folks, and some people have thought to have experienced her gentle touch. |
| 2567 | 08/18/2017 | sdonley | Children have been heard playing around the Inn when there are none around. |
Paranormal Evidence
Paranormal evidence is based on claims that have been reported for this location. There can be several types of evidence; however, we have grouped them based on media type for better organization. Here you will find evidence that are logs, audio, video, or photographic.
To add evidence for a claim, you must submit it to PANICd.com for approval to be entered into the database.
---
No Evidence Reported Yet!
Additional Resources
This is a collection of Internet resources for this location. This section will house links to other websites that contain information related to history, claims, investigations, or even the location's website.
---