Casa Monica Resort and Spa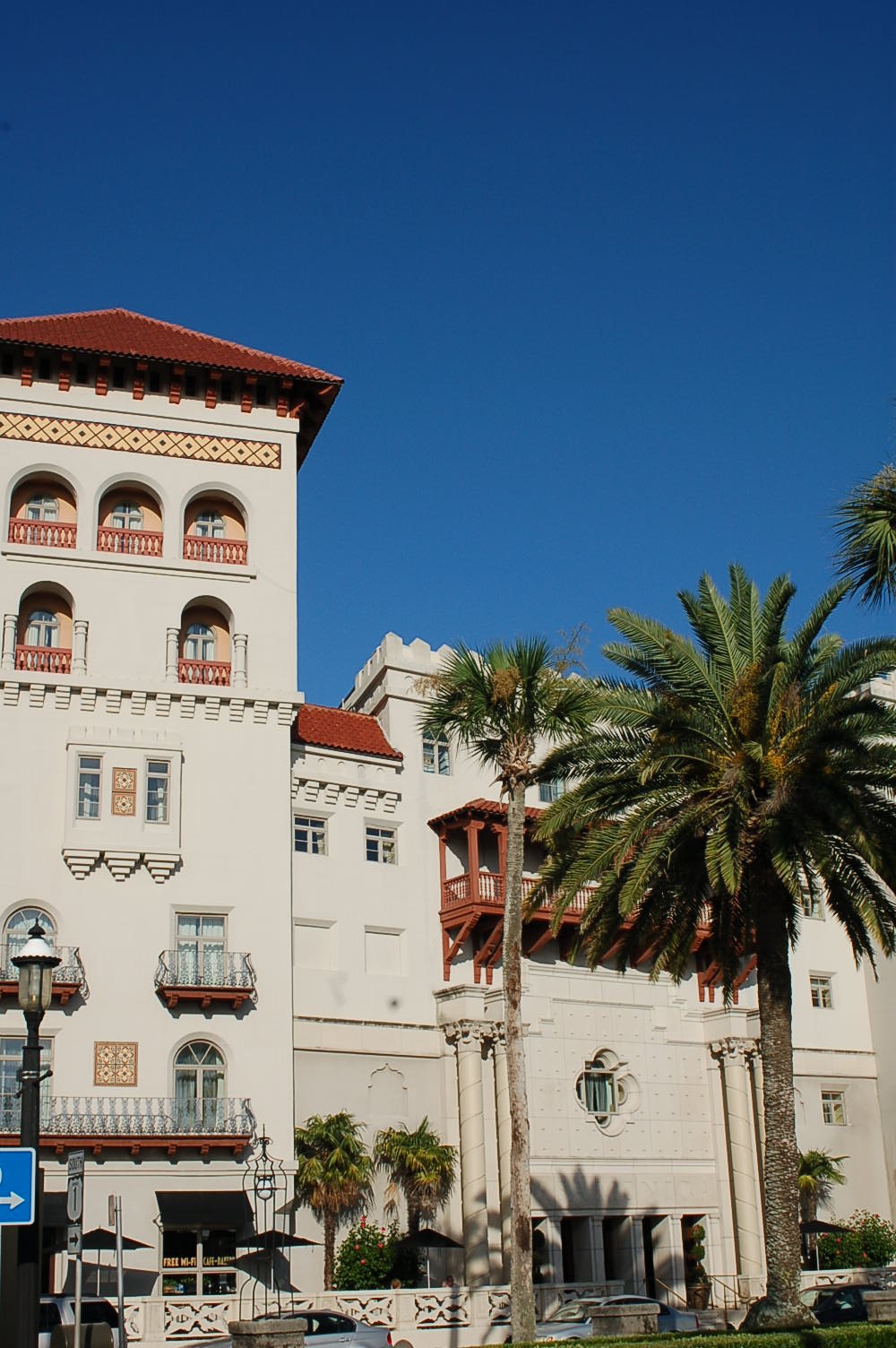 Photo by:
Marianne Donley
Location submitted by:
sdonley
on 08/03/2017
DBA Approved: Y
Larger Map
PANICd#: 1894

The historic Casa Monica Hotel was originally open for business on New Year's Day in 1888.
95 Cordova St
St. Augustine , FL 32084
Phone: (904) 827-1888
Open to the public: Yes
http://www.marriott.com/hotels/trav...
Lat: 29.8918962
Lon: -81.31365499999998
Database Summary:
Demographic Rank: 6
History: 1
Stories: 2
Claims: 11
Evidence: 0
Resources: 0
Retrievals: 10747
Vistor Rating: 5.0
Votes: 1
History
History information is some background and history about the location. This is meant to be a basic summary. Below the history records you will find sources in which you can click on to find out more information. There may be multiple history records per location.
---
In May 1887, Henry Flagler - railroad pioneer, hotel magnate and co-founder of Standard Oil - sold a parcel of land in St. Augustine, Florida to Bostonian amateur architect, Franklin W. Smith. On New Year's Day 1888, Smith opened the historic Casa Monica Hotel. Four months later, Henry Flagler purchased Casa Monica and "all fixtures, furnishings, silver, hardware, linen, bedding, parlor, hall, dining room, and kitchen furnishings and all other chattels," for $325,000 and changed the name of the hotel to Cordova. The hotel flourished under Flagler's management.
In 1902, a bridge was built between Cordova and the nearby Alcazar (which is now the Lightner Museum) and the historic hotel changed its name to Alcazar Annex. One year later, the two became one hotel, advertised as the "enlarged and redecorated" Alcazar. Henry Flagler abandoned the property when the stock market fell. It officially closed in 1932, and in 1945 the bridge was torn down.
In February of 1962, St. Johns County Commission purchased the Cordova for $250,000 to use it as a county courthouse. On May 29, 1968 the Courthouse opened and stayed active until the late 1970s. Then in the mid 1990s, Richard C. Kessler of the Kessler Enterprise, Inc. of Orlando purchased the St. Johns County Courthouse with intent to return the building to a luxurious hotel in Florida.
The historic Casa Monica Hotel opened its doors on December 10, 1999; two years later the king and queen of Spain visited, confirming that the property had graduated into the realm of the country's best boutique hotels.
Added by: sdonley on 08/13/2017 DB#:333
Source(s):
http://m.historichotels.org/basicphone/index.php/p...

---
Stories
Stories are just that. Stories and personal accounts that have been reported about the location.
---
Two of the most haunted rooms in the hotel are room 411 and room 511, which is directly above the former room. Hotel workers see and experience a lot in a given day, but at the Casa Monica Hotel, workers experience more than most. A guest checked into the hotel one day but never came down the next morning or checked out. Workers found his limp and lifeless body hanging from the ceiling in room 511. Guests now report feeling icy winds moving through the room, finding cold spots in certain places and hearing footsteps when they were the only ones in the room. Guests staying in room 411 sometimes see ghostly apparitions of men in old-fashioned clothing standing in the room. The men disappear from view within seconds.
Though the owners and management of the hotel refuse to acknowledge any ghostly presences in the hotel, housekeepers and other workers have plenty of stories. Many despise cleaning the fourth floor because of the things they see and hear. Dozens of maids have reported hearing kids running, playing and laughing in the hallway when cleaning rooms, but when they opened the door to talk to them, the hallway was empty. Others heard radios and alarm clocks come on in empty rooms and sinks turn on inside empty rooms. The stories and experiences are so common that the housekeeping department now allows maids to work together to clean rooms.
One young woman hired as a housekeeper heard the stories but ignored them until she had a peculiar experience of her own. While working on the fourth floor, she knocked on a door to alert guests of her presence and heard a voice beckoning her from inside the room. When she walked inside, she found the room empty of any living people.
There are also stories told of ghostly apparitions dressed in 1920s clothing spotted in various places around the hotel. Some believe that these ghosts date back to the heyday of the Casa Monica. Several guests spotted a woman in an elegant white dress, and others saw men in morning coats or dapper suits wandering the halls. Though the Casa Monica Hotel went through a major renovation in the 1990s, the ghosts of former guests continue visiting the old hotel year after year.
Added by: sdonley on 08/13/2017 DB#:1293
Source(s):
https://frightfind.com/casa-monica-hotel/

---
Many say that Henry Flagler haunts this Hotel. Visitors have reported seeing footprints on carpets in empty rooms, lights shutting off and on, doors locking and unlocking, the sounds of whispering in the hallways and a figure of a white man dressed in a 1920's black and grey striped suit walking in the halls and lobby of the hotel.
Added by: sdonley on 08/13/2017 DB#:1294
Source(s):
http://www.mystery411.com/Landing_casamonicahotel....

---
Paranormal Claims
Here are the paranormal claims for this location. These have been found through Internet research, reports from members, or reports from personal interviews. To add a claim, please contact PANICd.com, and we will review and add your information.
---
| | | | |
| --- | --- | --- | --- |
| Claim # | Added | Added By | Claim |
| 2550 | 08/13/2017 | sdonley | In room 511, guests have reported icy winds moving throughout the room and cold spots. |
| 2551 | 08/13/2017 | sdonley | In room 511, guests have reported hearing footsteps when nobody else is in the room. |
| 2552 | 08/13/2017 | sdonley | In room 411, guests have reported seeing men in period clothing, then they disappear. |
| 2553 | 08/13/2017 | sdonley | People in period clothing have been seen throughout the building. Almost to a point where guests believe that they are employees dressed up as actors. |
| 2554 | 08/13/2017 | sdonley | One guest had a conversation with a women dress in period clothes. She told him that she was present when they broke ground for the hotel. |
| 2555 | 08/13/2017 | sdonley | Children have been heard running in the hallways, but nobody was present. |
| 2556 | 08/13/2017 | sdonley | Radios and alarm clocks come on by themselves in empty rooms. |
| 2557 | 08/13/2017 | sdonley | Footprints have been found in the carpet of empty rooms. |
| 2558 | 08/13/2017 | sdonley | Lights have turned on and off on their own. |
| 2559 | 08/13/2017 | sdonley | Doors have locked and unlocked on their own. |
| 2560 | 08/13/2017 | sdonley | People have reported the sounds of people whispering in the hallways. |
Paranormal Evidence
Paranormal evidence is based on claims that have been reported for this location. There can be several types of evidence; however, we have grouped them based on media type for better organization. Here you will find evidence that are logs, audio, video, or photographic.
To add evidence for a claim, you must submit it to PANICd.com for approval to be entered into the database.
---
No Evidence Reported Yet!
Additional Resources
This is a collection of Internet resources for this location. This section will house links to other websites that contain information related to history, claims, investigations, or even the location's website.
---
No Reources Yet!