General Braddock's Grave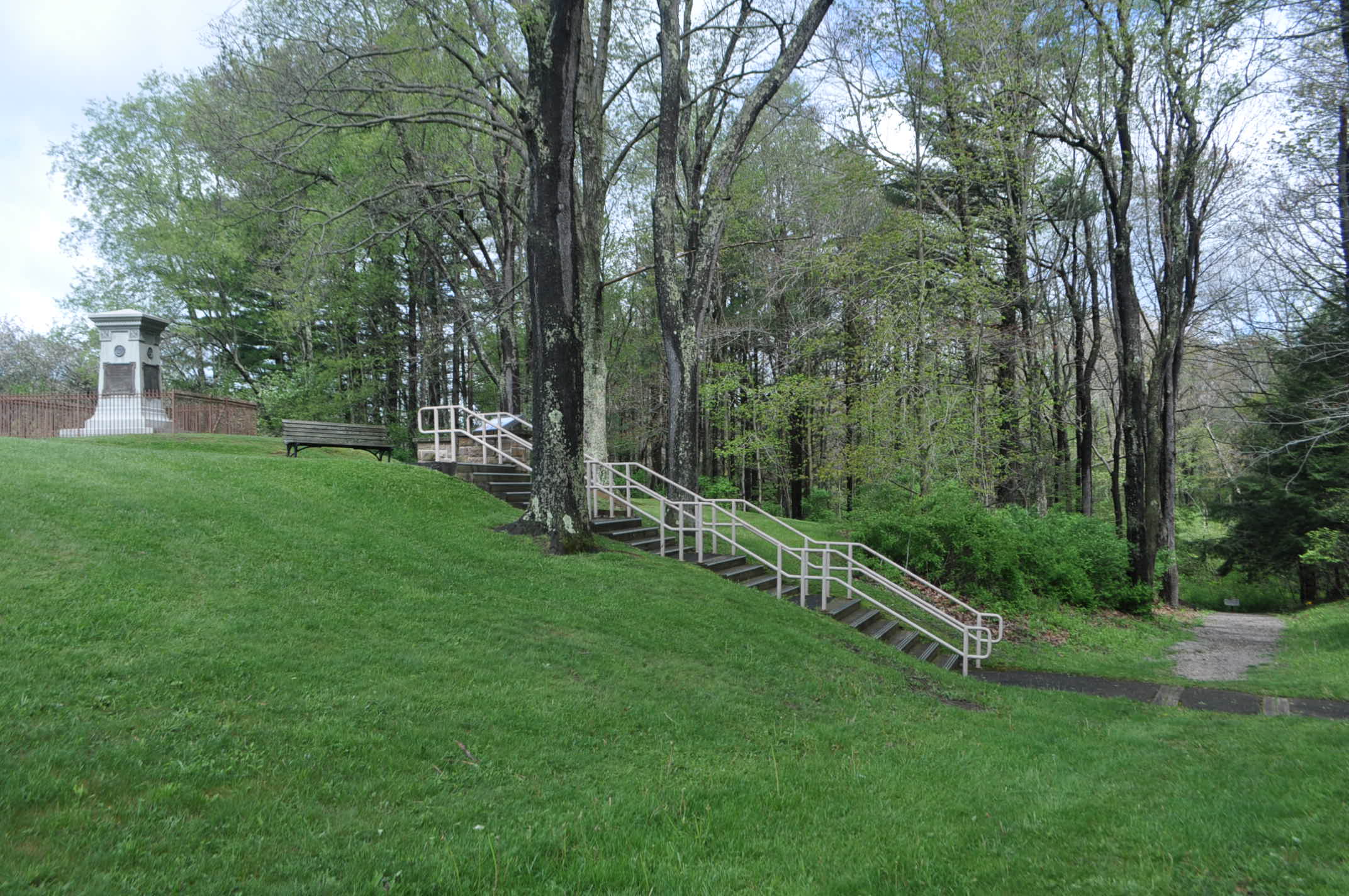 Photo by:
Marianne Donley
Location submitted by:
sdonley
on 01/22/2018
DBA Approved: Y
Larger Map
PANICd#: 1987

VIEW EVIDENCE FOR THIS LOCATION
This locations marks the first and second burial location of the British General Edward Braddock.
1 Washington Pkw
Farmington , PA 15437
Phone: (724) 329-5811
Open to the public: Yes
https://www.nps.gov/fone/braddockgr...
Lat: 39.819078
Lon: -79.587852
Database Summary:
Demographic Rank: 6
History: 1
Stories: 1
Claims: 5
Evidence: 1
Resources: 5
Retrievals: 14532
Vistor Rating: 1.0
Votes: 3
History
History information is some background and history about the location. This is meant to be a basic summary. Below the history records you will find sources in which you can click on to find out more information. There may be multiple history records per location.
---
In the 1750's, both the French and British laid claim to the Ohio River Valley. In April 1755, Maj. Gen. Edward Braddock was selected to head a British expedition from Virginia to meet the French at Fort Duquesne near what is now Pittsburgh. One of his aides-de-camp was named George Washington.
The march was long and hard and so as they neared their destination, Braddock took a contingent of about 1200 men including Washington ahead, and left the rest of the army to catch up later.
This lead column was only about 8 miles from Fort Duquesne when they met up with a large reconnaissance contingent of French and Indians. The British formed themselves into ordered ranks but the French forces with Native American allies surrounded and fired on the British from the forest. At the end of the battle, three-quarters of the British lead column were dead or wounded.
Gen. Braddock himself was mortally wounded and died three days later during the British retreat. George Washington, having witnessed the slaughter which included scalping, was concerned that Braddock's remains not be desecrated. So he had Braddock buried in the middle of the road, and then ordered wagons to pass over the grave to hide it from further disturbance. George Washington proceeded over his funeral.
Many years later, in 1804, while repairs were being made to the Braddock Road, remains believed to be Braddock's were found by workmen. These were re-interred on a nearby hill and a granite monument was erected to mark the new grave.
Both the original and new graves are found along US Route 40 in southwestern Pennsylvania in one of the three sites that comprise Fort Necessity National Battlefield. The Braddock monument is visible from Route 40 and the original gravesite is marked and found in the same little park site further down the trace of the Braddock Road.
Added by: sdonley on 01/22/2018 DB#:379
Source(s):
http://www.waymarking.com/waymarks/WM6A5K_General_...

---
Stories
Stories are just that. Stories and personal accounts that have been reported about the location.
---
Braddock's Grave - The Untold Story
After the French and Indian War ended, the Braddock Road remained a main road in this area. In 1804, some workmen discovered human remains in the road near where Braddock was supposed to have been buried. Officer's uniform buttons reportedly found at the site indicated that the remains were those of General Braddock.
Initially, some of the remains were kept as souvenirs. Andrew Stewart, a local magistrate, learned of the desecration of the grave site and ordered the return of the remains. Reportedly, some hand bones found their way to the Peale Museum in Philadelphia. P.T. Barnum purchased the contents of the museum and moved it to New York City. A fire in 1864 destroyed the museum. In addition, a section of vertebrae is reportedly in the Walter Reed Hospital collection in Bethesda, Maryland.
The remains that were recovered were then re-interred on a small knoll adjacent to the road. In 1913 the marker was placed where it is today, keeping its silent watch.
Added by: sdonley on 01/22/2018 DB#:1372
Source(s):
https://www.nps.gov/fone/braddockgrave.htm

---
Paranormal Claims
Here are the paranormal claims for this location. These have been found through Internet research, reports from members, or reports from personal interviews. To add a claim, please contact PANICd.com, and we will review and add your information.
---
| | | | |
| --- | --- | --- | --- |
| Claim # | Added | Added By | Claim |
| 2704 | 01/22/2018 | sdonley | People have reported seeing the apparition of General Braddock around the area. |
| 2705 | 01/22/2018 | sdonley | People have taken photos with strange orbs and lighting around his grave marker. |
| 2706 | 01/22/2018 | sdonley | At night people have heard the sounds of musket fire and rebel yells in the area. |
| 2780 | 06/10/2019 | sdonley | People have reported seeing the apparitions of soldiers around the trees where Braddock was originally interred. |
| 2781 | 06/10/2019 | sdonley | Investigators have recorded intelligent responses on spirit boxes and sounds of what is believed to be musket fire in the area. |
Paranormal Evidence
Paranormal evidence is based on claims that have been reported for this location. There can be several types of evidence; however, we have grouped them based on media type for better organization. Here you will find evidence that are logs, audio, video, or photographic.
To add evidence for a claim, you must submit it to PANICd.com for approval to be entered into the database.
---
CLAIM #: 2705 - People have taken photos with strange orbs and lighting around his grave marker.




Evidence Type: Photograph
Encounter Type: Orb
Hauting Type: Unknown
Investigation Status: More Investigation Needed
Photo of strange lights.
Submitted By: sdonley On: 01/22/2018
DBA Approved: Y

Additional Resources
This is a collection of Internet resources for this location. This section will house links to other websites that contain information related to history, claims, investigations, or even the location's website.
---