Adams Mystery Playhouse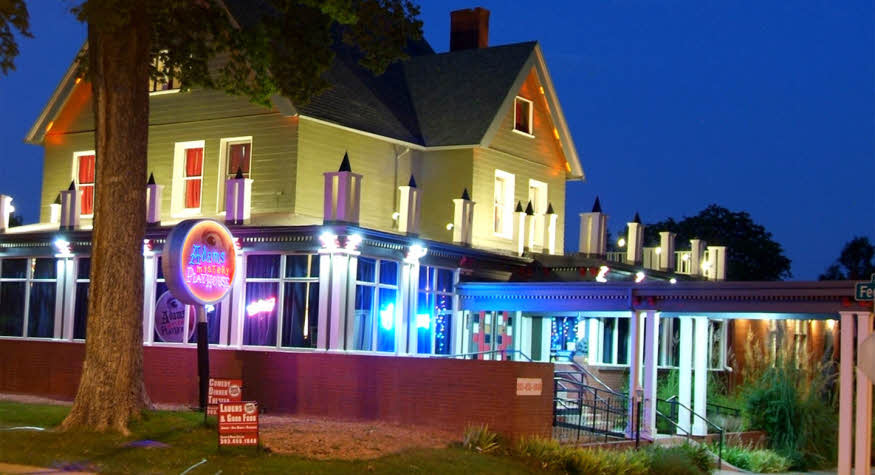 Photo by:
Adamns Mystery Playhouse ...
Location submitted by:
sdonley
on 08/03/2017
DBA Approved: Y
Larger Map
PANICd#: 1936

VIEW EVIDENCE FOR THIS LOCATION
The building that houses Adams Mystery Playhouse has a very unusual, albeit twisted, history.
2406 Federal Blvd
Denver , CO 80211
Phone: (303) 455-1848
Open to the public: Yes
http://adamsmysteryplayhouse.com/
Lat: 39.752609
Lon: -105.0247321
Database Summary:
Demographic Rank: 6
History: 1
Stories: 0
Claims: 1
Evidence: 4
Resources: 4
Retrievals: 12185
Vistor Rating: 2.5
Votes: 2
History
History information is some background and history about the location. This is meant to be a basic summary. Below the history records you will find sources in which you can click on to find out more information. There may be multiple history records per location.
---
The building that houses Adams Mystery Playhouse has a very unusual, albeit twisted, history. From appointments in the carved wood on the Grand Staircase and other tell-tale architectural signs, the mansion was probably built in the late 1880's. However, the first recorded residents were of the William Simpson family, who were known to come from Canada. With his six family members, Mr. Simpson lived in the mansion until the 1920's, when he mysteriously disappeared.
No records have been found in respect to inhabitants until 1934, when Ted Day bought the large home to live in and to conduct his new business, a mortuary. The Day Mortuary hung out its shingle, and Mr. Day and his young bride started their family of four children. Trisha (now going by "Pat") was born in the house and, at a very young age, became the organist for the funeral services. Thankfully, she and her husband, Bill, live in Lakewood, just a few miles west of where Pat and her siblings grew up. "I have many stories about this old mansion", reminisces Pat, "but we had very happy times here. Lots of singing and friends - always friends". What was it like growing up in a mortuary? "The thing I disliked the most was that Mama wouldn't let us have a Halloween party when we had a body in the house".
In 1965, Mr. Day sold to the Noonan family and the mortuary became the Day Noonan Mortuary. In those years, a large chapel was added and today is the Spider Web Dining Room, housing the comedy mystery dinner theatre productions.
From 2003-2005, Funeria Latina made it their home and conducted services in Spanish. "We've had many people attend the dinner theater who were here for a funeral," quips Marne Wills-Cuellar, co-owner with her husband, Carlos Cuellar, "and they often times say that they're relieved to be here for something that has more laughter than tears".
The building sat vacant for a year, until purchased by the Cuellars in 2006 as a home for their signature Death For Dinner Shows, attracting thousands of locals and visitors every year.
Added by: sdonley on 08/03/2017 DB#:315
Source(s):
http://adamsmysteryplayhouse.com/rent.htm#his

---
Stories
Stories are just that. Stories and personal accounts that have been reported about the location.
---
No Stories Yet!
Paranormal Claims
Here are the paranormal claims for this location. These have been found through Internet research, reports from members, or reports from personal interviews. To add a claim, please contact PANICd.com, and we will review and add your information.
---
| | | | |
| --- | --- | --- | --- |
| Claim # | Added | Added By | Claim |
| 2723 | 01/25/2018 | sdonley | Investigators have recorded EVPs at this location. |
Paranormal Evidence
Paranormal evidence is based on claims that have been reported for this location. There can be several types of evidence; however, we have grouped them based on media type for better organization. Here you will find evidence that are logs, audio, video, or photographic.
To add evidence for a claim, you must submit it to PANICd.com for approval to be entered into the database.
---
CLAIM #: 2723 - Investigators have recorded EVPs at this location.




Evidence Type: Video
Encounter Type: EVP
Hauting Type: Unknown
Investigation Status: More Investigation Needed
EVP Recording at this location
Submitted By: sdonley On: 01/25/2018
DBA Approved: Y

Additional Resources
This is a collection of Internet resources for this location. This section will house links to other websites that contain information related to history, claims, investigations, or even the location's website.
---
Adams Mystery Playhouse
Added: 01/25/2018 By: sdonley
Colorado's premier entertainment show of Murder Mystery Dinner Theatre. Shows are for any age, rated PG and are on most Friday and Saturday nights, 6:30pm - 9:30pm. A full bar is available. Check our web site for additional evening shows and daytime Kids' Shows all summer long! Mysteries are perfect for team-building and corporate get-togethers. Mansion tours also available.
Adams Mystery Playhouse (Denver) - All You Need to Know Before You Go (with Photos) - TripAdvisor
Added: 01/25/2018 By: sdonley
Adams Mystery Playhouse, Denver: See 96 reviews, articles, and 16 photos of Adams Mystery Playhouse, ranked No.62 on TripAdvisor among 260 attractions in Denver.
Adams Mystery Playhouse - 27 Photos & 54 Reviews - Performing Arts - 2406 Federal Blvd, Jefferson Park, Denver, CO - Phone Number - Yelp
Added: 01/25/2018 By: sdonley
54 reviews of Adams Mystery Playhouse "This place is awesome!!! Highlights: I laughed the entire time, excellent improv, excellent engagement of the audience, basic food, ATM on site, free parking, cash bar, very hospitable and personable staff.…
Facebook page
Added: 01/25/2018 By: sdonley
Facebook page for this location.