Adams Family Home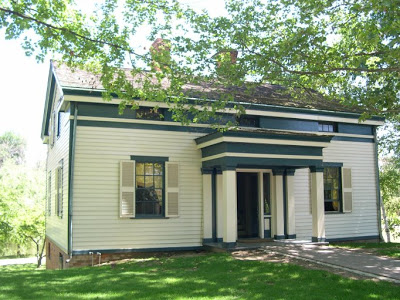 Photo by:
Marianne Donley
Location submitted by:
sdonley
on 08/03/2017
DBA Approved: Y
Larger Map
PANICd#: 1940

George Matthew Adams was born in this modest Baptist parsonage in a bustling rural village in 1878.
Maple Lane
Dearborn , MI 48124
Open to the public: Yes
https://www.thehenryford.org/collec...
Lat: 42.305847
Lon: -83.224818
Database Summary:
Demographic Rank: 5
History: 1
Stories: 1
Claims: 1
Evidence: 0
Resources: 0
Retrievals: 7063
Vistor Rating: 0.0
Votes: 0
History
History information is some background and history about the location. This is meant to be a basic summary. Below the history records you will find sources in which you can click on to find out more information. There may be multiple history records per location.
---
George Matthew Adams was born in this modest Baptist parsonage in a bustling rural village in 1878. His column "Today's Talk" appeared in newspapers across the country. It was influenced by his religious upbringing, and its inspirational tone appealed to the average American. Adams' father was a Baptist minister, and his parents raised their five children to have strong morals.
Added by: sdonley on 07/31/2019 DB#:466
Source(s):
https://www.thehenryford.org/collections-and-resea...

---
Stories
Stories are just that. Stories and personal accounts that have been reported about the location.
---
"It was a quiet day and I was by myself in the Adams House doing some cooking in the kitchen. I heard the sound of someone running up the sidewalk to the front of the house and their loud heavy footsteps on the wooden front porch. They came inside the house and ran right up the stairs to the second floor really quickly. The second floor is not open to the public and someone must have left the rope down that crossed the steps which is supposed to hinder anyone from going up. I ran from the kitchen to tell them to come down. As fast as I heard those footsteps run into the house and up the stairs, there was no way they could have stopped to unhook the rope. When I came around to the stairs, the rope was still hooked and there was no one upstairs."
Added by: sdonley on 07/31/2019 DB#:1462
Source(s):
http://passionforthepast.blogspot.com/2015/04/ghos...

---
Paranormal Claims
Here are the paranormal claims for this location. These have been found through Internet research, reports from members, or reports from personal interviews. To add a claim, please contact PANICd.com, and we will review and add your information.
---
| | | | |
| --- | --- | --- | --- |
| Claim # | Added | Added By | Claim |
| 2956 | 07/31/2019 | sdonley | Someone was heard running into the house and up the stairs, yet nobody was there after investigation. |
Paranormal Evidence
Paranormal evidence is based on claims that have been reported for this location. There can be several types of evidence; however, we have grouped them based on media type for better organization. Here you will find evidence that are logs, audio, video, or photographic.
To add evidence for a claim, you must submit it to PANICd.com for approval to be entered into the database.
---
No Evidence Reported Yet!
Additional Resources
This is a collection of Internet resources for this location. This section will house links to other websites that contain information related to history, claims, investigations, or even the location's website.
---
No Reources Yet!