Stan Hywet Hall and Gardens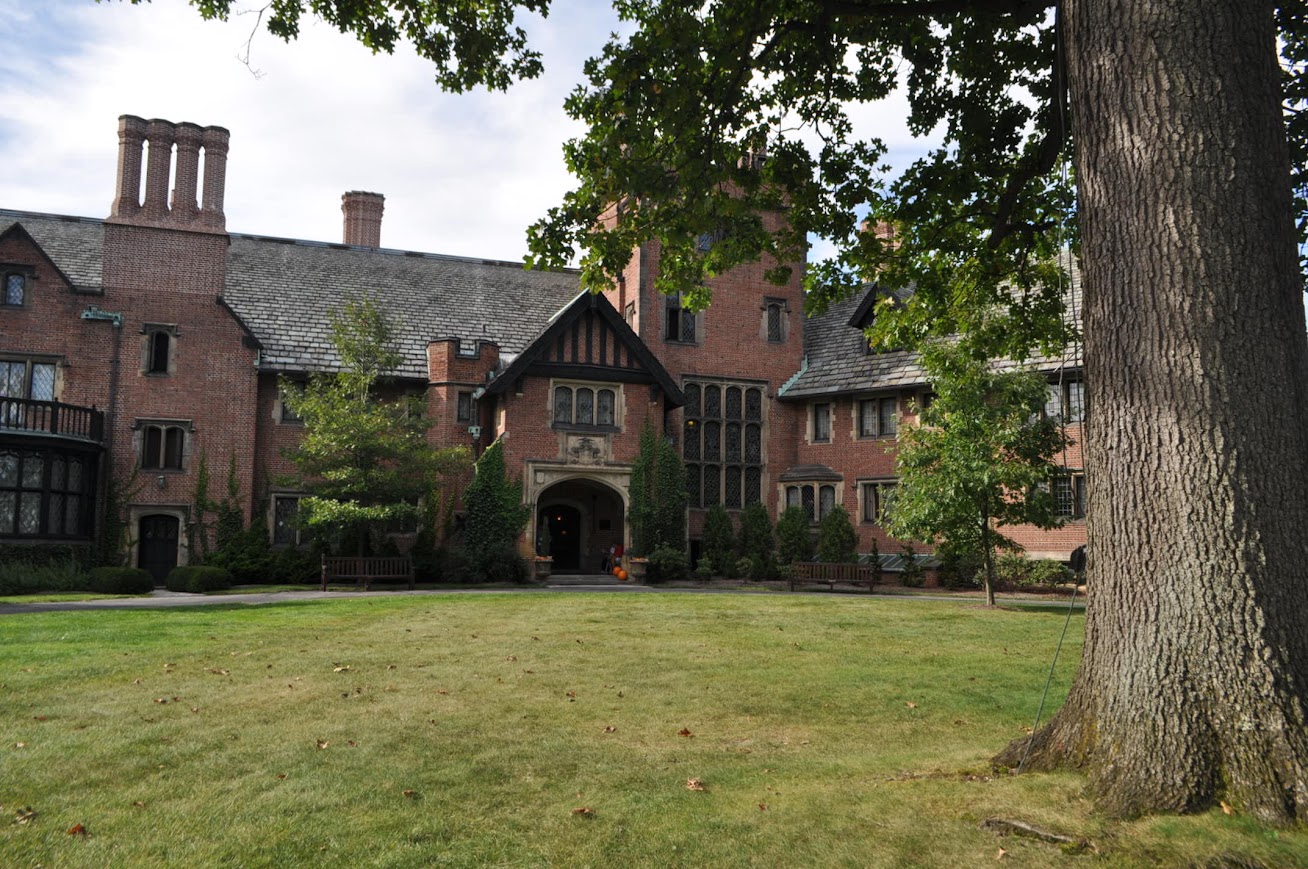 Photo by:
http://seiberlingvisualhi...
Location submitted by:
sdonley
on 12/11/2013
DBA Approved: Y
Larger Map
PANICd#: 1287

Stan Hywet Hall & Gardens (70 acres) is a notable country estate, with gardens, located at 714 North Portage Path in Akron, Ohio. It ranks twelfth on the list of largest houses in the United States.
714 North Portage Path
Akron , OH 44303
Phone: 330-836-5533
Open to the public: Yes
Lat: 41.1167062
Lon: -81.54874110000003
Database Summary:
Demographic Rank: 6
History: 1
Stories: 0
Claims: 1
Evidence: 0
Resources: 4
Retrievals: 10225
Vistor Rating: 0.0
Votes: 0
History
History information is some background and history about the location. This is meant to be a basic summary. Below the history records you will find sources in which you can click on to find out more information. There may be multiple history records per location.
---
Stan Hywet Hall & Gardens (70 acres) is a notable country estate, with gardens, located at 714 North Portage Path in Akron, Ohio. It ranks twelfth on the list of largest houses in the United States.
The estate was built between 1912 and 1915 for F. A. Seiberling, founder of the Goodyear Tire and Rubber Company. He gave it the name Stan Hywet, Old English for stone quarry, to reflect the site's earlier use and the most prominent feature of the estate. Architect Charles Sumner Schneider designed the Tudor Revival house, with Hugo F. Huber as interior decorator. Most of the furnishings came from New York City, but some were purchased in England. The estate grounds, originally about 3,000 acres (12 km2) in extent, were designed between 1911-1915 by Boston landscape architect Warren H. Manning, and remain today one of the finest examples of his work. The English garden was redesigned in 1929 by noted landscape architect Ellen Biddle Shipman. In 1957, the Seiberling family donated Stan Hywet to a non-profit organization for its preservation. It is now a historic house museum and country estate, open seasonally to the public, in keeping with the stone inscription above the Manor House front door, "Non nobis solum", meaning "Not for us alone".
Three English country homes served as the inspiration for Stan Hywet's 65-room manor: Compton Wynyates, Ockwells, and Haddon Hall.
Major gardens within the estate include the Birch Allee Vista, Breakfast Room Garden, the Dell, English Garden, Grape Arbor, Great Garden, Great Meadow, Japanese Garden, Lagoon, and West Terrace. The largest of the Lagoon's pools measures 15 feet (4.6 m) deep and was created from the site's quarry. The estate also includes a fine greenhouse, the Corbin Conservatory, designed by architect Charles Schneider. The Corbin Conservatory, replicated from the design of the original building, opened to the public in 2005.
Stan Hywet Hall and Gardens hosts The Annual Classic, Antique & Collector Car Show every year on Father's Day, and the Ohio Shakespeare Festival.
Stan Hywet Hall and Gardens is open Tuesday through Sunday, April 1 through December 30. It is closed to the public on Mondays, except Memorial Day and Labor Day. An admission fee is charged.
Added by: sdonley on 12/11/2013 DB#:162
Source(s):
http://en.wikipedia.org/wiki/Stan_Hywet_Hall_and_G...

---
Stories
Stories are just that. Stories and personal accounts that have been reported about the location.
---
No Stories Yet!
Paranormal Claims
Here are the paranormal claims for this location. These have been found through Internet research, reports from members, or reports from personal interviews. To add a claim, please contact PANICd.com, and we will review and add your information.
---
| | | | |
| --- | --- | --- | --- |
| Claim # | Added | Added By | Claim |
| 1681 | 12/11/2013 | sdonley | The ghost of a woman has been encountered in various places of the 65-room historic home. She is known as the Gray Lady. |
Paranormal Evidence
Paranormal evidence is based on claims that have been reported for this location. There can be several types of evidence; however, we have grouped them based on media type for better organization. Here you will find evidence that are logs, audio, video, or photographic.
To add evidence for a claim, you must submit it to PANICd.com for approval to be entered into the database.
---
No Evidence Reported Yet!
Additional Resources
This is a collection of Internet resources for this location. This section will house links to other websites that contain information related to history, claims, investigations, or even the location's website.
---