Pennhurst Today
Definition: A description on how Pennhurst is being used today.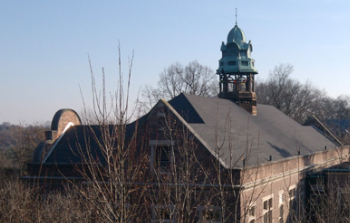 The Department of Military Affairs acquired the upper campus of Pennhurst and began work to reuse it as a veteran's home. In 1986, the upper campus cottage units reopened as the Southeastern Veteran's Center. In 1990, renovations began on Horizon Hall, one of the newest buildings at Pennhurst, as part of a project to establish a nursing facility at the veteran's center. It reopened in 1993 as Coates Hall.
After many years of determining what to do with Pennhurst, Congressman Jim Gerlach sought to establish a federal veterans cemetery at Pennhurst in 2003 but the VA rejected the proposal.
In 2001, the state adopted the Keystone Principles concerning the state's duties to maintain historic property and to consult with the Pennsylvania Historical and Museum Commission before transferring the property into private hands. Local County officials supervisors approved a private development and Pennhurst was sold to a developer, Pennhurst Associates, for two million dollars. The Pennhurst Memorial and Preservation Alliance (PMPA) was formed to advocate for certain uses of the site.
Pennhurst was added to the National Register of Historic Places and Pennsylvania's list of the most At-Risk Pennsylvania Properties as well as the International Coalition of Sites of Conscience, a worldwide network of historic sites specifically dedicated to remembering struggles for justice.
In partnership with the Preservation Alliance of Greater Philadelphia, PMPA obtained a grant to complete a re-use design and feasibility study of the Pennhurst campus.
As of 2010, the administration building has been partially renovated and reopened as the Pennhurst Asylum haunted house. The attraction has been successful, though controversial among locals and those previously affiliated with Pennhurst.
Penn Organic Recycling LLC currently operates on four-and-a-half-acres of Pennhurst, offering topping, composting and food waste services. The Department of Environmental Protection permitted the composting operation at Pennhurst to maintain no more than 25 tons.
Pennhurst has been featured on the shows Ghost Adventures on Travel Channel, Ghost Hunters on SyFy, Celebrity Ghost Stories on BIO, Snooki & Jwoww on MTV, The Haunting Of... 'Beverley Mitchell' on BIO, Haunted History on History Channel, Ghosts of Mayflower: A Pennhurst Haunting (book), and the self-titled movie 'Pennhurst', featuring Beverley Mitchell and Haylie Duff.
Collections:
Eastern Pennsylvania State Institution
Related Categories:
| Interactive Pennhurst Timeline | Pennhurst State School and Hospital | Behind Closed Doors | Excerpts from Halderman vs. Pennhurst State School | Pennhurst - Property Layout | Pennhurst - Categorizing the Children | Pennhurst - General Operations | Lost in a Desert World | Pennhurst - Suffer The Little Children | Hauntings at Pennhurst |
Resources:
db#835
What are your thoughts?