Austin Log Cabin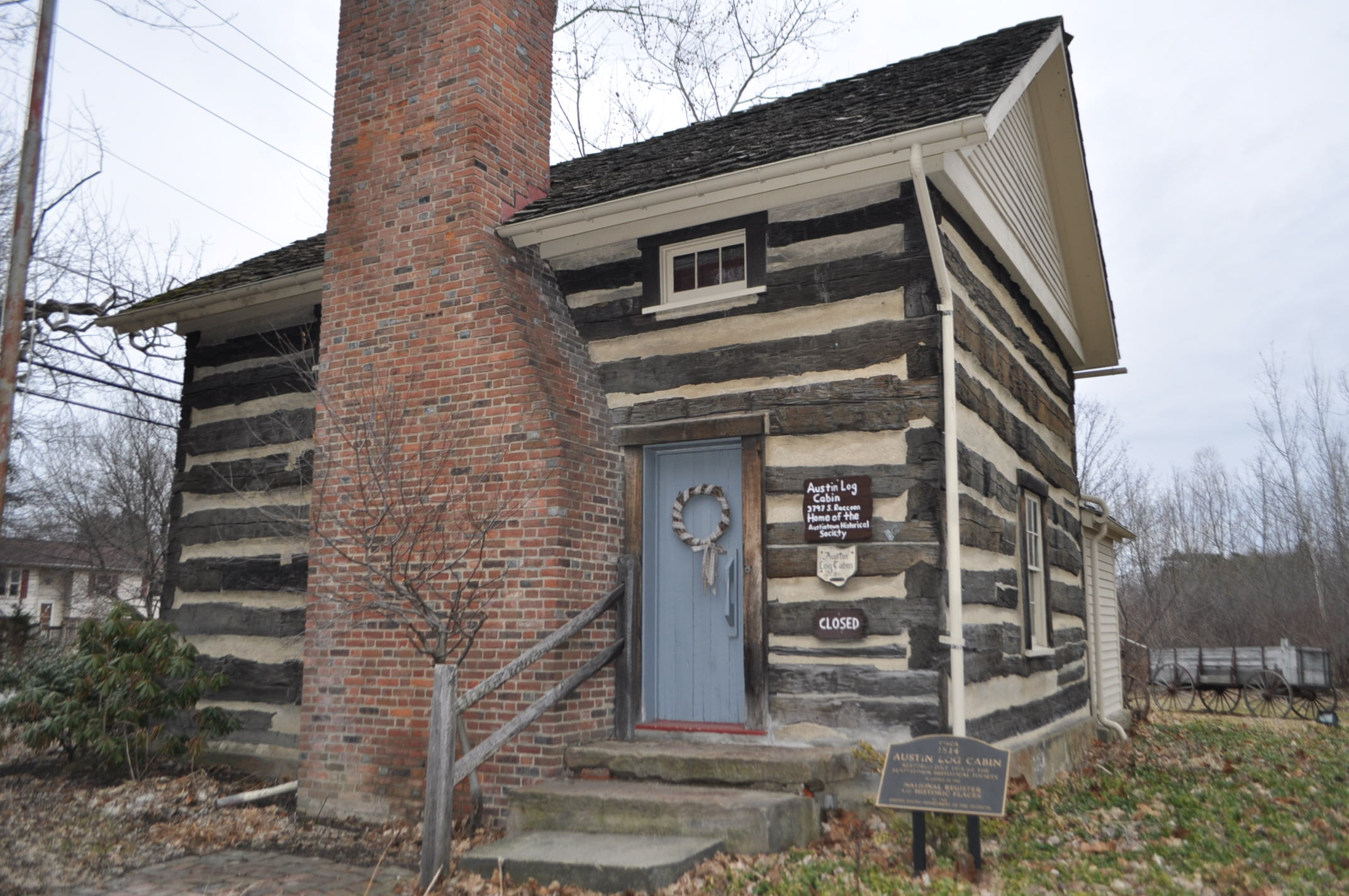 Photo by:
Marianne Donley
Location submitted by:
sdonley
on 03/30/2014
DBA Approved: Y
Larger Map
PANICd#: 1324

Austintown Log House is a log cabin near Youngstown, Ohio, listed on the National Register of Historic Places on 1974-07-30. It is managed by the Austintown Historical Society and commonly known as the "Austin Log Cabin".
3797 S Raccoon Rd
Canfield , OH 44406
Open to the public: Yes
Lat: 41.0616885
Lon: -80.73231659999999
Database Summary:
Demographic Rank: 4
History: 4
Stories: 0
Claims: 1
Evidence: 0
Resources: 1
Retrievals: 14414
Vistor Rating: 0.0
Votes: 0
History
History information is some background and history about the location. This is meant to be a basic summary. Below the history records you will find sources in which you can click on to find out more information. There may be multiple history records per location.
---
Added by: sdonley on 07/24/2019 DB#:408
Source(s):
https://www.youtube.com/watch?v=_g2YPV-_KgA

---
Added by: sdonley on 07/24/2019 DB#:409
Source(s):
https://www.youtube.com/watch?v=Q_Iv6w_mAnM

---
Added by: sdonley on 07/24/2019 DB#:410
Source(s):
https://www.youtube.com/watch?v=XwmEHNnc_oQ

---
Discovery of the Cabin
In 1973, St. Andrew's Episcopal Church, in Austintown Township, Ohio, bought an abandoned house adjacent to the church property. In the process of tearing down the house, log-like beams were discovered. Demolition stopped. Volunteers removed the artificial brick and siding from the structure revealing a two-story log cabin. The steeple notch on the corner logs indicated that the cabin has been built prior to 1824. A deed search was undertaken. This title search revealed that Calvin Austin sold 150.5 acres (0.609 km2) to John Packard on April 29, 1814 for $500.00. Further research indicated that Austintown Township, Ohio was named for Calvin Austin who was a land agent for the Connecticut Land Company. It was obvious that this priceless treasure must be preserved.
Residents of the Cabin
The earliest residents of the house were John Harris Packard (listed as one 108 resident heads of household in Austintown in 1820 census) and his second wife, Mary Alfred (or Alford) Barnes Packard. John Harris Packard was born January 30, 1748 in North Bridgewater, Mass.. He and his second wife, Mary, and their 10 children migrated to Austintown in 1814. Upon John's death on January 7, 1827 in Austintown (listed as Miander Township on his will which is included below) Ohio, the log house and surrounding 120 acres (0.49 km2) were willed to his son, William Packard. On January 14, 1828, deed records indicate a transfer of 30 acres (120,000 m2) from William and Martha Packard to Samuel Dorwat (Dorworth) for $150. Records indicate that in 1829, Dorwat and his wife, Sarah "Ann" Burgett Dorwat, sold 10 acres (40,000 m2) including the house to Henry Lawrence (alternately spelled Lorins) and his wife Polly for $50. In 1845, these 10 acres (40,000 m2) were sold to Abraham Dustman and his wife, Rebecca Mauer Dustman, for $406. The Dustmans lived there with their five children. Dustman was a farmer and is thought to have built the barn that was destroyed in a fire in 1910. In 1850, Dustman sold the property to Henry Wehr and his wife Margaret for $510. Wehr dug the wells and added the hog shed. At some point, Henry sold the property to his nephew, Levi Wehr. In the "Archeology of Log Cabin," Dr. John White describes Levi as "a heavy and secretive drinker" because White found at least 183 whiskey bottles secreted in the foundation of the second barn built by Levi in 1910. Levi and his wife, Emma, raised two daughters in the house. The house was owned in the 1940s by Willard Wesley Stricklin. Stricklin is reported to have dug out the root cellar below the kitchen. The house was occupied from 1948 to 1963 by Joseph Hanko. Hanko dug out cellar under main house and added the small bathroom extension. The house sat vacant from 1964 until 1973 when it was acquired by St. Andrew's Episcopal Church.
Preservation of the Cabin
The Austintown Community Council worked with members of the community to raise funds for the restoration of the cabin. With the approval of township officials, the group developed an innovative fundraiser which involved standing at the busiest intersection in Austintown and collecting money from drivers in cars stopped at the red light. This, coupled with pennies collected from school children; donations from school PTAs, civic organization, and various church groups; bake sales, book sales, and a flea market yielded $50,000 with which to restore the cabin. While some volunteers were fundraising, other volunteers, under the guidance of an architect knowledgeable in historical preservation, were removing the cabin's roof and replacing it with a wood shake roof, removing interior walls, replacing windows with panes of glass from a 100-year-old school house, and adding a furnace and new plumbing. They sealed the logs with preservatives, and they replaced the chinking with a cement mixture to simulate the original the clay, straw, mud and rock chinking. They restored the fireplace using century-old brick and an old barn beam for the mantel. As a result of their efforts, the Austin Log Cabin was designated a National Historic Landmark in 1975. A $2,500 grant from the Ohio American Revolution Bicentennial Commission allowed the dedication of the Austin Log Cabin on July 4, 1976 as Austintown's Bicentennial Project. The Austintown Historical Society was formed on July 21, 1976 for the purpose of maintaining the Austin Log Cabin. It became a 501(c)(3) in 1976 and was incorporated in 1979.
The Cabin Today
The Austintown Historical Society continues to maintain the Austin Log Cabin and is responsible for the upkeep, utilities, and day-to-day maintenance. It has furnished the Austin Log Cabin through donations of period furnishing including a bed slept in by Frank Ohl, a historical figure in Austintown, a spinning wheel, yarn winder, two primitive tables, and Ohio Bicentennial memorabilia. One room of the Cabin is dedicated to the Bicentennial of the United States and memorabilia of that era. Another upstairs room of the Cabin is outfitted as a one room school house replete with documents and photos of Austintown's 12 one-room school houses, a coal stove, desks, period books, and yearbooks from Austintown Fitch High School dating from 1917 to the present day. The basement is furnished with antique farm implements. A corn crib, a three-seat outhouse, a smokehouse, various farming implements, and a coal car from one of Austintown's earliest coal mines are located outside. The Austin Log Cabin has served as the site for an Archaeological Dig supervised by the late Dr. John White, professor emeritus of anthropology at Youngstown State University. In addition to the cabin, Dr. White's dig revealed the existence of a multipurpose shed which was at one time used as a chicken coop, a stock well dug in 1860-70 and abandoned by 1930, a chicken house, two outdoor privies--one dug in 1950 and one right before 1950, a barn, a second barn built circa 1910, a hog shed, a house well, a cistern, and a summer house. Relics collected during these digs are displayed throughout the Cabin as is the book, Archaeology of the Log House, produced by Dr. White. The cabin is open for free tours on the first Sunday of every month from 1-4 and by appointment other times.
The will of John Harris Packard (from M. Harke, Rootsweb entry 13209)
LAST WILL & TESTAMENT OF JOHN PACKARD: Knowing that in the course of nature, I must go the way of all the earth, I John Packard of Miander Township County & State of Ohio, I being of good health and sound mind do think it my duty as well as my privilege to make my last will and testament in the following manner. 1st---I will that after my death my body shall be decently buried beside my wife, likewise my funeral expenses and all just debts shall all be paid. 2ed---I will that the property that I do not will be sold as soon as is convinient after my death. 3ed---I will that my daughter Mary take the rent that is due me on that farm which she had of me in Washington County (6 or more?) years at sixty dollars per year. 4th-I will that my son Thomas Packard have five hundred dollars 5th---I will that my daughter Rachel shall have one hundred and fifty dollars. 6th---I will Rebecca shall have one hundred and fifty dollars. 7th---I will my daughter Catherine's children shall have thirty dollars each. 8th---I will that my son William Packard shall have all that farm which I now live on in Millander Township,Trumbull County, State of Ohio, containing one hundred and 20 acres (81,000 m2), to have and enjoy for ever. 9th---I will that my daughter Nancy shall have one hundred and fifty dollars and my bed and bedding. 10th---I will that my son Garret's children shall have fifty dollars equally divided, each their equal proportion. 11th---I will my son William Packard and John Dowlur, my son-in-law, shall be my Exentors, this my last will and testament in which I set my hand and seal this 29 day of April, 1826. John Packard
Added by: sdonley on 03/30/2014 DB#:176
Source(s):
http://en.wikipedia.org/wiki/Austintown_Log_House

---
Stories
Stories are just that. Stories and personal accounts that have been reported about the location.
---
No Stories Yet!
Paranormal Claims
Here are the paranormal claims for this location. These have been found through Internet research, reports from members, or reports from personal interviews. To add a claim, please contact PANICd.com, and we will review and add your information.
---
| | | | |
| --- | --- | --- | --- |
| Claim # | Added | Added By | Claim |
| 1762 | 03/30/2014 | sdonley | The apparition of a headless soldier has been seen in the upper windows of the cabin. |
Paranormal Evidence
Paranormal evidence is based on claims that have been reported for this location. There can be several types of evidence; however, we have grouped them based on media type for better organization. Here you will find evidence that are logs, audio, video, or photographic.
To add evidence for a claim, you must submit it to PANICd.com for approval to be entered into the database.
---
No Evidence Reported Yet!
Additional Resources
This is a collection of Internet resources for this location. This section will house links to other websites that contain information related to history, claims, investigations, or even the location's website.
---