Wyecollar Hall - Christmas Haunting
Definition: A haunting at Christmas time.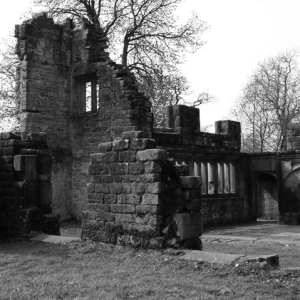 A remarkable ghost story is that of the Spectre Horseman of Wyecollar Hall, another manor house that now lies ruined. The apparition is supposed to be the ghost of one of the Cunliffes, who, in years gone by, is said to have murdered his wife. Once a year, at Christmas time, he revisits the scene of the tragedy.
He is attired in the costume of the early Stuart period, and the trappings of his horse are of a most uncouth description. On the evening of his visit the weather is always wild and tempestuous. There is no moon to light the lonely roads, and residents of the district do not venture out of their cottages.
When the wind howls its loudest the horseman can be heard dashing up the road at full speed, and after crossing the narrow bridge he stops at the door of Wyecollar Hall. He dismounts and makes his way up the broad oaken stairs into one of the rooms of the house. Dreadful screams are heard, which soon subside into groans. The ghostly horseman then makes his appearance at the door, remounts his steed, and gallops off up the road by which he came.
Collections:
Christmas Hauntings
Related Categories:
| Newstead Abbey - Christmas Ghost | Glamis Castle - Christmas Haunting | Tamworth Castle - Christmas Haunting | Corby Castle - Christmas Haunting | Cortachy Castle - Christmas haunting | Lowther Castle - Christmas Haunting | Marischal College - Aberdeen - Christmas Haunting | Four Oaks - Christmas Haunting | Peel Castle - Christmas Haunting |
Resources:
db#544
What are your thoughts?