Washtington Irving
Definition: Washington Irving (April 3, 1783 - November 28, 1859) was an American author, essayist, biographer, historian, and diplomat of the early 19th century. He is best known for his short stories "The Legend of Sleepy Hollow" and "Rip Van Winkle", both of which appear in his book The Sketch Book of Geoffrey Crayon, Gent.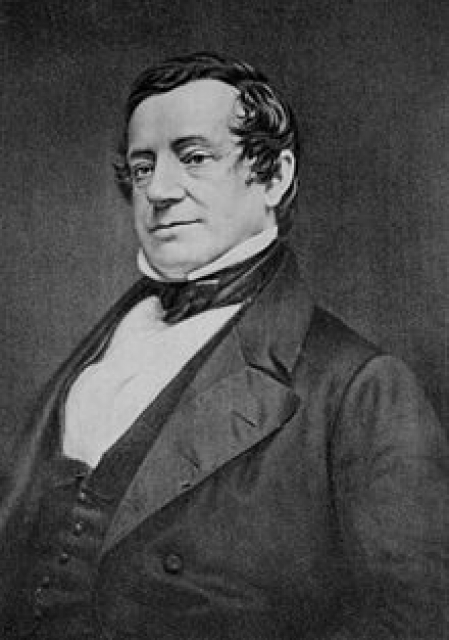 His historical works include biographies of George Washington, Oliver Goldsmith and Muhammad, and several histories of 15th-century Spain dealing with subjects such as Christopher Columbus, the Moors, and the Alhambra. Irving served as the U.S. ambassador to Spain from 1842 to 1846.
He made his literary debut in 1802 with a series of observational letters to the Morning Chronicle, written under the pseudonym Jonathan Oldstyle. After moving to England for the family business in 1815, he achieved international fame with the publication of The Sketch Book of Geoffrey Crayon, Gent. in 1819-20. He continued to publish regularly-and almost always successfully-throughout his life, and completed a five-volume biography of George Washington just eight months before his death, at age 76, in Tarrytown, New York.
Irving, along with James Fenimore Cooper, was among the first American writers to earn acclaim in Europe, and Irving encouraged American authors such as Nathaniel Hawthorne, Herman Melville, Henry Wadsworth Longfellow, and Edgar Allan Poe. Irving was also admired by some European writers, including Walter Scott, Lord Byron, Thomas Campbell, Francis Jeffrey, and Charles Dickens. As America's first genuine internationally best-selling author, Irving advocated for writing as a legitimate profession, and argued for stronger laws to protect American writers from copyright infringement.
Irving was regularly approached by aspiring young authors for advice or endorsement, including Edgar Allan Poe, who sought Irving's comments on "William Wilson" and "The Fall of the House of Usher". Irving also championed America's maturing literature, advocating stronger copyright laws to protect writers from the kind of piracy that had initially plagued The Sketch Book. Writing in the January 1840 issue of Knickerbocker, he openly endorsed copyright legislation pending in the U.S. Congress. "We have a young literature", Irving wrote, "springing up and daily unfolding itself with wonderful energy and luxuriance, which... deserves all its fostering care". The legislation did not pass.
Irving at this time also began a friendly correspondence with the English writer Charles Dickens, and hosted the author and his wife at Sunnyside during Dickens's American tour in 1842.
Final Years and Death
He continued to socialize and keep up with his correspondence well into his seventies, and his fame and popularity continued to soar. "I don't believe that any man, in any country, has ever had a more affectionate admiration for him than that given to you in America", wrote Senator William C. Preston in a letter to Irving. "I believe that we have had but one man who is so much in the popular heart". By 1859, author Oliver Wendell Holmes, Sr. noted that Sunnyside had become "next to Mount Vernon, the best known and most cherished of all the dwellings in our land".
On the night of November 28, 1859, at 9:00 pm, only eight months after completing the final volume of his Washington biography, Washington Irving died of a heart attack in his bedroom at Sunnyside at the age of 76. Legend has it that his last words were: "Well, I must arrange my pillows for another night. When will this end?" He was buried under a simple headstone at Sleepy Hollow cemetery on December 1, 1859.
Additional Photos for this Topic:




Collections:
The Legend of Sleepy Hollow
Related Categories:
| Sleepy Hollow Cemetery | Sleepy Hollow, New York | The Legend of Sleepy Hollow |
Resources:
db#475
What are your thoughts?