The Watcher
Definition: This picture taken at Corroboree Rock at Alice Springs, Northern Territory, Australia shows the ghost of a woman.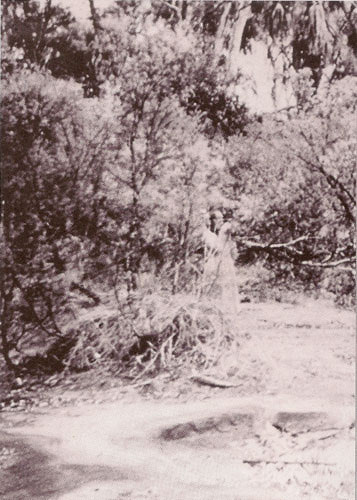 This photo was taken at Corroboree Rock at Alice Springs, Northern Territory, Australia in 1959. What does not seem to be a trick of light and shadow is a human form, semi-transparent, wearing what looks like a long white dress or gown. More curious, the figure seems to be holding something in the manner that a person holds a camera or binoculars.
One possibility is that this is a double exposure of a living person. In 1959, this image would have been captured on film.
If it is not a double exposure and this is a spirit captured on film, then a number of questions arise: What is the entity looking and why? Do they have cameras and binoculars in the afterlife? Or is this an instance of a time slip in which the camera has recorded a scene from a different time?
It has even been speculated that this figure might actually be a time traveler or interdimentional being, who has been photographed in the act of watching us!
Collections:
Famous Ghost Photos
Related Categories:
| Farm Ghost | The Freddy Jackson Ghost | The Ghost of Robert A. Ferguson | The House of Seven Gables | San Antonios Railroad Crossing Ghost | The Ghost of Boothill Cemetery | The Brown Lady Ghost | The Back Seat Ghost | The Vacation Party Ghost | Madonna of Bachelors Grove | Godfathers Pizza Ghost | Decebal Hotel Ghost | Ghost in the Burning Building Fake | The Tulip Staircase Ghost | The Lord Combermere Ghost | Specter of Newby Church | Sefton Church Ghost | Phantom Pilot Photo | Ghost in the Choir Loft | Picture of Grandpas Ghost | Ghostly Grip | Haunted Bureau Ghost Picture | Picture of Cemetery Ghost Baby | Coventry Spectre Ghost Picture | Pink Lady of Greencastle | Ghost of White Lady of Worstead Church | Electric Chair Ghost picture | Winchester Cathedral Monks | Photo of Cloe at Myrtles Plantation |
Resources:
db#785
What are your thoughts?