Shroud of Turin
Definition: An ancient strip of cloth marked with bloodstains and what appears to be the image of a man. Believed by many to be the burial cloth of Jesus Christ.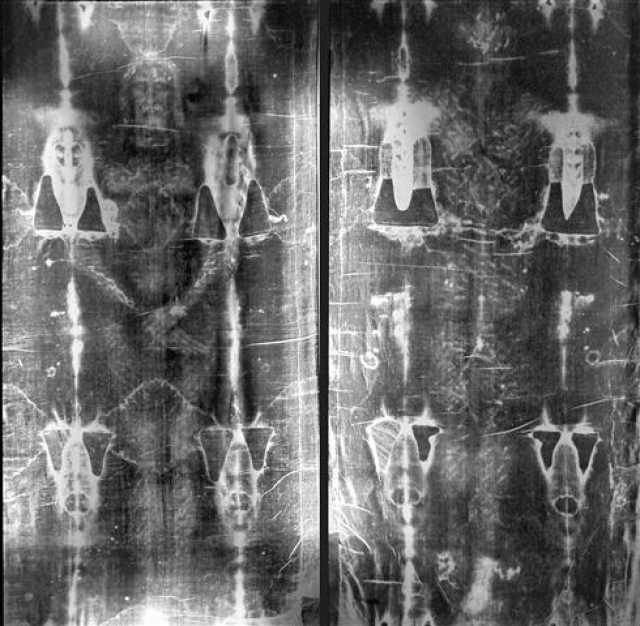 The shroud of Turin is a linen cloth bearing the image of a man who had apparently died of crucifixion. Most Catholics consider it to be the burial shroud of Jesus Christ. It is currently held in the Cathedral of St John the Baptist in Turin, Italy.
Despite many scientific investigations, no one has yet been able to explain how the image has been imprinted on the shroud and despite many attempts, no one has managed to replicate it.
Radiocarbon tests date it to the middle ages, however apologists for the shroud believe it is incorrupt - and carbon dating can only date things which decay.
Prior to the middle ages, reports of the shroud exist as the Image of Edessa - reliably reported since at least the 4th century. In addition, another cloth (the Sudarium) known even from biblical times (John 20:7) exists which is said to have covered Christ's head in the tomb.
A 1999 study by Mark Guscin, a member of the multidisciplinary investigation team of the Spanish Center for Sindonology, investigated the relationship between the two cloths.
Based on history, forensic pathology, blood chemistry (the Sudarium also is reported to have type AB blood stains), and stain patterns, he concluded that the two cloths covered the same head at two distinct, but close moments of time.
Avinoam Danin (a researcher at the Hebrew University of Jerusalem) concurred with this analysis, adding that the pollen grains in the Sudarium match those of the shroud.
Additional Photos for this Topic:




Resources:
db#319
What are your thoughts?