Salem witch trials
Definition: The Salem witch trials were a series of hearings and prosecutions of people accused of witchcraft in colonial Massachusetts, between February 1692 and May 1693.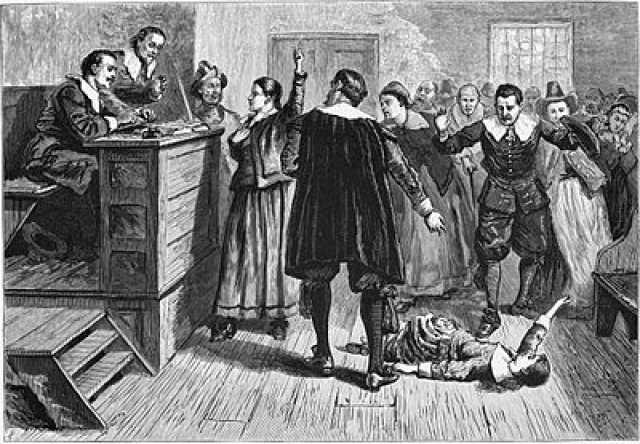 Despite being generally known as the Salem witch trials, the preliminary hearings in 1692 were conducted in a variety of towns across the province: Salem Village (now Danvers), Ipswich, Andover and Salem Town.
In 17th century colonial North America, the supernatural was part of everyday life, for there was a strong belief that Satan was present and active on Earth. This concept emerged in Europe around the fifteenth century and spread to North America when it was colonized. Witchcraft was then used by peasants, who invoked particular charms for farming and agriculture.
Over time, the idea of white magic transformed into dark magic and became associated with demons and evil spirits. From 1560 to 1670, witchcraft persecutions became common as superstitions became associated with the devil. In "Against Modern Sadducism" (1668), Joseph Glanvill claimed that he could prove the existence of witches and ghosts of the supernatural realm. Glanvill wrote about the "denial of the bodily resurrection, and the [supernatural] spirits". In his treatise, he claimed that ingenious men should believe in witches and apparitions; if they doubted the reality of spirits, they not only denied demons, but also the almighty God. Glanvill wanted to prove that the supernatural could not be denied; those who did deny apparitions were considered heretics for it also disproved their beliefs in angels. Works by men such as Glanvill and Cotton Mather tried to prove to humanity that "demons were alive", which played on the fears of individuals who believed that demons were active among them on Earth.
Men and women in Salem believed that all the misfortunes were attributed to the work of the devil; when things like infant death, crop failures or friction among the congregation occurred, the supernatural was blamed. Because of the unusual size of the outbreak of witchcraft accusations, various aspects of the historical context of this episode have been considered as specific contributing factors.
Intitial events
In Salem Village in the winter months of 1692, Betty Parris, age 9, and her cousin Abigail Williams, age 11, the daughter and niece, respectively, of Reverend Parris, began to have fits described as "beyond the power of Epileptic Fits or natural disease to effect" by John Hale, minister in nearby Beverly. The girls screamed, threw things about the room, uttered strange sounds, crawled under furniture, and contorted themselves into peculiar positions, according to the eyewitness account of Rev. Deodat Lawson, a former minister in the town. The girls complained of being pinched and pricked with pins. A doctor, historically assumed to be William Griggs, could find no physical evidence of any ailment. Other young women in the village began to exhibit similar behaviors. When Lawson preached in the Salem Village meetinghouse, he was interrupted several times by outbursts of the afflicted.
The first three people accused and arrested for allegedly afflicting Betty Parris, Abigail Williams, 12-year-old Ann Putnam, Jr., and Elizabeth Hubbard were Sarah Good, Sarah Osborne and Tituba. The accusation by Ann Putnam Jr. is seen by historians as evidence that a family feud may have been a major cause of the witch trials. Salem was the home of a vicious rivalry between the Putnam and Porter families. The people of Salem were all engaged in this rivalry. Salem citizens would often engage in heated debates that would escalate into full fledged fighting, based solely on their opinion regarding this feud.
Sarah Good was a homeless beggar and known to beg for food and shelter from neighbors. She was accused of witchcraft because of her appalling reputation. At her trial, Good was accused of rejecting the puritanical expectations of self-control and discipline when she chose to torment and -scorn [children] instead of leading them towards the path of salvation".
Sarah Osborne rarely attended church meetings. She was accused of witchcraft because the puritans believed that Osborne had her own self-interests in mind following her remarriage to an indentured servant. The citizens of the town of Salem also found it distasteful when she attempted to control her son's inheritance from her previous marriage.
Tituba, as a slave of a different ethnicity than the Puritans, was a target for accusations. She was accused of attracting young girls like Abigail Williams and Betty Parris with enchanting stories from Malleus Maleficarum. These tales about sexual encounters with demons, swaying the minds of men, and fortune telling stimulated the imaginations of young girls and made Tituba an obvious target of accusations.
All of these outcast women fit the description of the "usual suspects" for witchcraft accusations, and nobody defended them. These women were brought before the local magistrates on the complaint of witchcraft and interrogated for several days, starting on March 1, 1692, then sent to jail. Other accusations followed in March: Martha Corey, Dorothy Good and Rebecca Nurse in Salem Village, and Rachel Clinton in nearby Ipswich. Martha Corey had voiced skepticism about the credibility of the girls' accusations, drawing attention to herself. The charges against her and Rebecca Nurse deeply troubled the community because Martha Corey was a full covenanted member of the Church in Salem Village, as was Rebecca Nurse in the Church in Salem Town. If such upstanding people could be witches, then anybody could be a witch, and church membership was no protection from accusation. Dorothy Good, the daughter of Sarah Good, was only 4 years old, and when questioned by the magistrates her answers were construed as a confession, implicating her mother. In Ipswich, Rachel Clinton was arrested for witchcraft at the end of March on charges unrelated to the afflictions of the girls in Salem Village.
Formal prosecution: The Court of Oyer and Terminer
The Court of Oyer and Terminer convened in Salem Town on June 2, 1692, with William Stoughton, the new Lieutenant Governor, as Chief Magistrate, Thomas Newton as the Crown's Attorney prosecuting the cases, and Stephen Sewall as clerk. Bridget Bishop's case was the first brought to the grand jury, who endorsed all the indictments against her. Bishop was described as not living a puritan lifestyle for she wore black clothing and odd costumes which was against the puritan code. When she was examined before her trial, Bishop was asked about her coat which had been awkwardly "cut or torn in two ways". This along with her immoral lifestyle accused her of a being a witch. She went to trial the same day and was found guilty. On June 3, the grand jury endorsed indictments against Rebecca Nurse and John Willard, but it is not clear why they did not go to trial immediately as well. Bridget Bishop was executed by hanging on June 10, 1692.
June 30 through early July, grand juries endorsed indictments against Sarah Good, Elizabeth Howe, Susannah Martin, Elizabeth Proctor, John Proctor, Martha Carrier, Sarah Wilds and Dorcas Hoar. Only Sarah Good, Elizabeth Howe, Susannah Martin and Sarah Wildes, along with Rebecca Nurse, went on to trial at this time, where they were found guilty, and all five were executed by hanging on July 19, 1692.
In August, grand juries indicted George Burroughs, Mary Eastey, Martha Corey and George Jacobs, Sr., and trial juries convicted Martha Carrier, George Jacobs, Sr., George Burroughs, John Willard, Elizabeth Proctor and John Proctor. Elizabeth Proctor was given a temporary stay of execution because she was pregnant. August 19, 1692, Martha Carrier, George Jacobs Sr., George Burroughs, John Willard and John Proctor were executed.
In September, grand juries indicted eighteen more people. The grand jury failed to indict William Proctor, who was re-arrested on new charges. On September 19, 1692, Giles Corey refused to plead at arraignment, and was subjected to peine forte et dure, a form of torture in which the subject is pressed beneath an increasingly heavy load of stones, in an attempt to make him enter a plea. Four pleaded guilty and eleven others were tried and found guilty.
September 22, 1692, eight more were executed, "After Execution Mr. Noyes turning him to the Bodies, said, what a sad thing it is to see Eight Firebrands of Hell hanging there." One of the convicted, Dorcas Hoar, was given a temporary reprieve, with the support of several ministers, to make a confession of being a witch. Aged Mary Bradbury escaped. Abigail Faulkner Sr. was pregnant and given a temporary reprieve (some reports from that era say that Abigail's reprieve later became a stay of charges).
October 29, Judge Sewall writes "the Court of Oyer and Terminer count themselves thereby dismissed... asked whether the Court of Oyer and Terminer should sit, expressing some fear of Inconvenience by its fall, [the] Governour said it must fall." (Sewall's Diary, I. 368.) Governor Phips' wife was among those "called out upon" by the afflicted. Spectral evidence was once again in question. There would be more trials after the new year, but not like before.
The Superior Court of Judicature, 1693
In January 1693, the new Superior Court of Judicature, Court of Assize and General Gaol Delivery convened in Salem, Essex County, again headed by William Stoughton, as Chief Justice, with Anthony Checkley continuing as the Attorney General, and Jonathan Elatson as Clerk of the Court. The first five cases tried in January 1693 were of the five people who had been indicted but not tried in September: Sarah Buckley, Margaret Jacobs, Rebecca Jacobs, Mary Whittredge and Job Tookey. All were found not guilty. Grand juries were held for many of those remaining in jail. Charges were dismissed against many, but sixteen more people were indicted and tried, three of whom were found guilty: Elizabeth Johnson Jr., Sarah Wardwell and Mary Post. When Stoughton wrote the warrants for the execution of these women and the others remaining from the previous court, Governor Phips pardoned them, sparing their lives.
In late January/early February, the Court sat again in Charlestown, Middlesex County, and held grand juries and tried five people: Sarah Cole (of Lynn), Lydia Dustin & Sarah Dustin, Mary Taylor and Mary Toothaker. All were found not guilty, but were not released until they paid their jail fees. Lydia Dustin died in jail on March 10, 1693. At the end of April, the Court convened in Boston, Suffolk County, and cleared Capt. John Alden by proclamation, and heard charges against a servant girl, Mary Watkins, for falsely accusing her mistress of witchcraft.
In May, the Court convened in Ipswich, Essex County, held a variety of grand juries who dismissed charges against all but five people. Susannah Post, Eunice Frye, Mary Bridges Jr., Mary Barker and William Barker Jr. were all found not guilty at trial, putting an end to the episode.
Additional Photos for this Topic:





Resources:
db#469
What are your thoughts?