Salem witch trials - tests of guilt
Definition: These were the several different tests used to test the guilt of witches during the Salem witch trails.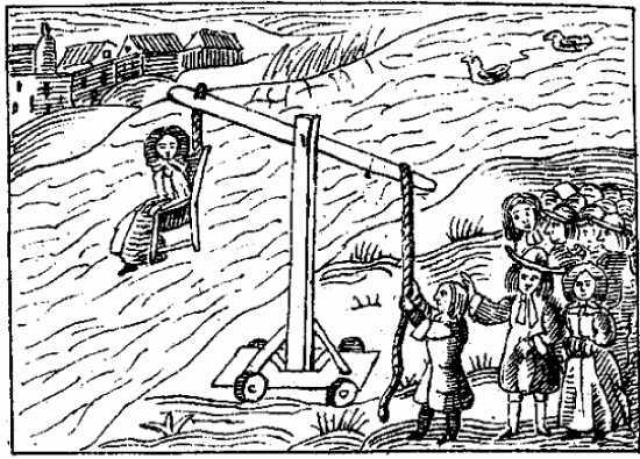 Here are 10 ways a guilty verdict was ascertained:
1. Bound Submersion
There was no favorable result in this test; essentially the alleged witch would be bound at the hands and feet - with heavy rocked attached - and thrown into a body of water. If the body floated to the surface, that was proof, along some kind of whimsical lines, that the accused was indeed a witch (at which point they'd execute her by some other means). If she sank to the bottom - and inevitably drowned - she was innocent.
2. Pressing
Another means of torture designed to make the accuser talk, but made it impossible for them to talk, much less breathe. Called "pressing," the subject is placed beneath heavy stones, meant to literally crush you into submission. One such recipient endured this very treatment, an 80 year-old man named Giles Corey accused of being a warlock (yes men could be accused as well). He refused to give a plea each of the several times he was asked, and was ultimately crushed to death by the stones, which, as it turned out, were more likely to speak than he was.
3. Forced Confession by Dunking
Those who didn't admit to being a witch and under heavy suspicion were usually induced to confess by way of torture. One method was dunking, in which the accused would be held under water repeatedly until they were successfully broken down. This is also an effective means to brainwash someone into believing a lie, anything to make the inhumanity cease.
4. Touch Test
This test is all about the performance. If an afflicted person - throwing fits and the like - suddenly becomes calm after the accused places their hand on him/her, then the toucher is most certainly a witch. This is said to be because all the "venom" and assorted evil toxins (stemming from the witch's eye) that originally addled the afflicted soul have returned to their evil host.
5. The Lord's Prayer Test
This was a literal test of faith. The accused would be made to recite the "Lord's Prayer" without error - this included any stumbling, stammering, or outright spasming. As elocution is a painstaking art, it seems that any average human would slip up, but under "God's eyes" (as well as whoever else sees themselves fit to judge) mistakes are unacceptable.
6. Artifacts
Sought after in the accused home were any artifacts corresponding to witchcraft that could be used as evidence for condemnation. These included poppets (a voodoo doll of sorts through which spells could be cast), cauldrons full of ointments, and books on palm reading and horoscopes.
7. Witch's Teat
If you've ever heard the expression "cold as a witch's teat," now you know the origin: the aforementioned teat corresponded to any kind of mole or unusual skin blemish which all witches (and frankly most humans) are characterized to have. The test was that this teat would be pricked with a needle, and if the recipient didn't bleed or feel it, then surely there was a witch in our midst. Often times, however, needles would be purposefully blunted so it would be easier to demonstrate just how "cold and unfeeling" this teat really is.
8. Eye Witness Testimonials
Some witnesses would confess to actually seeing the alleged witches practicing their black magic, which was enough to tattoo guilt all over them. Of course there was nothing to stop accusers of making up stories just to see people they disliked or deemed strange taken away. Many accusations stemmed from the belief that a death or illness had been caused by witchcraft, which upon filing with a magistrate and being deemed credible would lead to an arrest. On the charge of "affliction with witchcraft" or "entering a covenant with the devil."
9. Spectral Evidence
This type of evidence is based on claims by accusers that they would see the individual accused of witchcraft in dreams or visions doing the Devil's bidding. The argument against this was that the Devil could take any shape, while the counter-argument was that the Devil could not inhabit an individual's body without their permission. This form of evidence was somehow enough to convict several accused during the time it was deemed plausible. (When it was later thrown out, the conviction rate decline severely and hastened the trials' conclusion.)
10. Witch Cake
In this voodoo-inspired test, the ingredients of said cake were rye meal... and urine from the girls said to be afflicted by the witch's evil incantations. The test had dogs eat this cake, after which the alleged witch should scream out in pain - for in the process of her cursing the victims, she sent invisible particles of herself (the embodiment of pure evil, that is), which would show up in the urine. The cake, then, was effectively a voodoo doll of herself in a way. This superstition came from the Cartesian "Doctrine of Effluvia," which logically was prescribed as a document of medical fact.
Additional Photos for this Topic:









Resources:
db#472
What are your thoughts?