Part 3 - New York City
Definition: Part 3 of a 7 part series about spirit photography.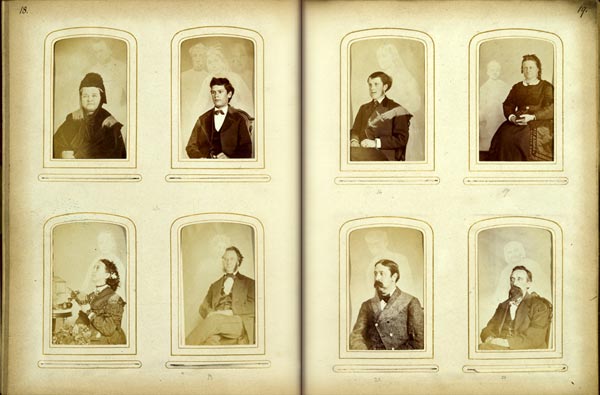 By early 1869, he was the best-known practitioner of spirit photography in New York. He had taken roughly 500 photographs and bought a studio at 630 Broadway. It was there that he photographed a Wall Street financier named Charles Livermore.
Livermore, himself a spiritualist, had been sent by the New York Sun as part of a team of investigators preparing a report on the photographer. Looking for the trick, he sat as still as a statue before the camera lens while Mumler counted off the seconds on his watch. With a flourish, Mumler replaced the lens cap and delicately retrieved the glass negative. In his dark closet, he floated the negative in a toxic bath to develop and fix the image.
Livermore observed as his features slivered in black traces through the white collodion that waxed the negative. Then, wondrously, another form etched into the glass, this one behind him, embracing him. He had been skeptical at first, but now, as he watched Mumler's every move, he believed. Out of the emptiness, his dead wife returned to him. Her spirit seized him. Here, for all the critics and the skeptics, was the picture, here was the proof.
Collections:
William H. Mumler - Father of Spirit Photography
Related Categories:
| The Birth and Death of Spirit Photography | Spirit Photography Defined | Part 1 - The Birth Of Spirit Photography | Part 2 - Leaving Boston | Part 4 - The Arrest and Trial | Part 5 - Witnesses for the Prosecution | Part 6 - The Descision | Part 7 - Return to Boston | William H. Mumler and Spirit Photography | William H. Mumler and Spirit Photography - 2 | | Mumler's Spirit Photos | | Haunting Spirit Photography from the Age Before Photoshop | 15 Incredible Examples of Early Spirit Photography | HISTORY OF SPIRIT PHOTOGRAPHY | William H. Mumler, Spirit Photographs, Amazed Audiences With Ghostly Images | Of Spooks, Proofs, and Truths: Reflections on the Mumler Spirit Photograph Case - YouTube | The Strange Case of William Mumler, Spirit Photographer — University of Minnesota Press | Spirit Photography | The Mumler Mystery: A Gallery of Spirit Photography from The American Museum of Photography | The Strange Case of William Mumler, Spirit Photographer - Louis Kaplan - Google Books | A Ghostly Image: Spirit Photographs | Picture This: Library of Congress Prints & Photos | When Cameras Took Pictures of Ghosts - Megan Garber - The Atlantic | G is for ghosts... the birth and rise of spirit photography | National Media Museum blog | | The Ghost and Mr. Mumler |
Resources:
db#872
What are your thoughts?