Clarence Darrow Octagon House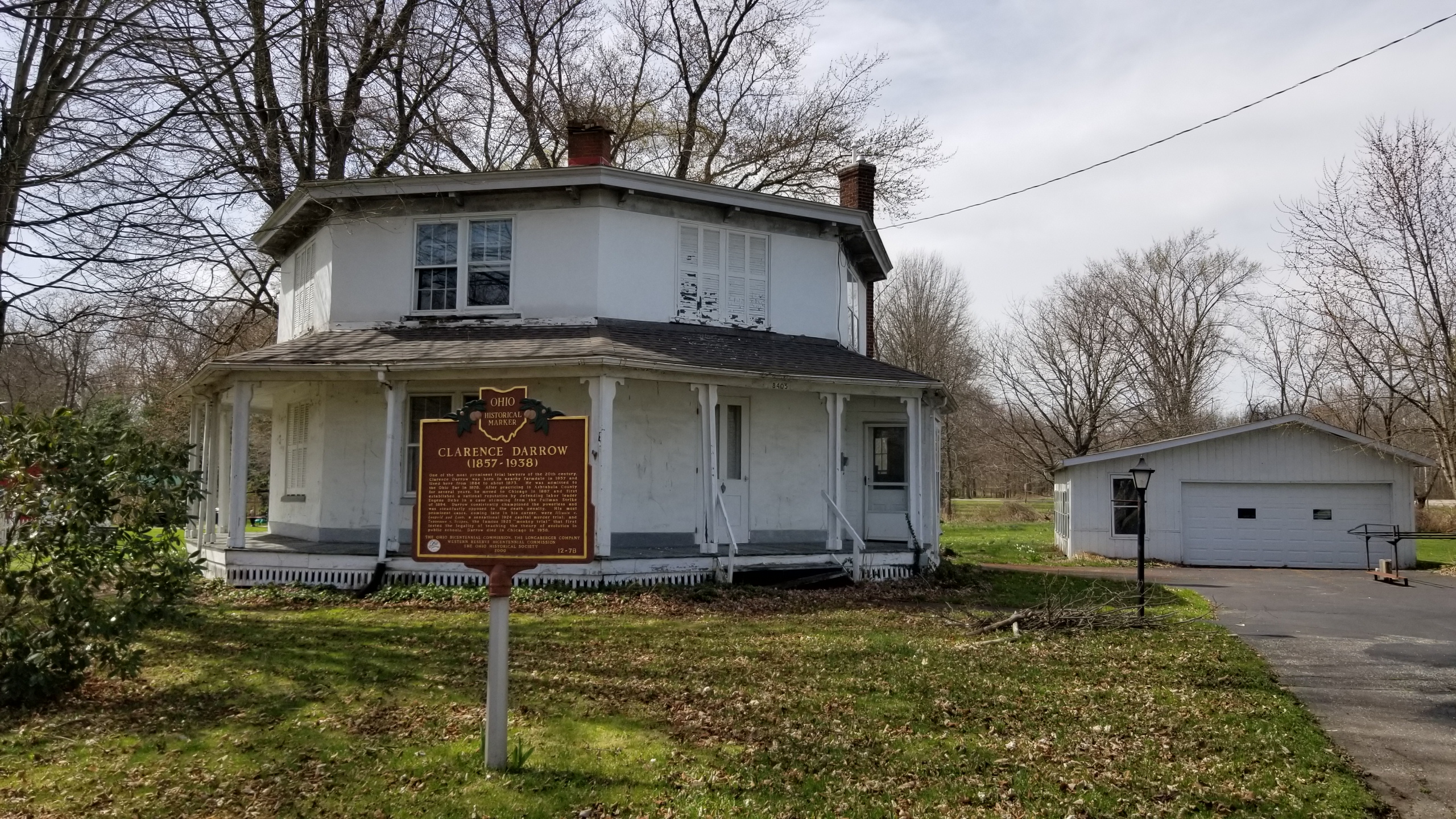 Photo by:
Marianne Donley
Location submitted by:
sdonley
on 11/21/2019
DBA Approved: Y
Larger Map
PANICd#: 2121

The Clarence Darrow Octagon House is a historic octagon house in the community of Kinsman, Ohio, United States. Home to lawyer Clarence Darrow in his childhood, it has been named a historic site.
8405 Main St
Kinsman , OH 44428
Open to the public: Unknown
Lat: 41.449629
Lon: -80.584344
Database Summary:
Demographic Rank: 4
History: 1
Stories: 1
Claims: 0
Evidence: 0
Resources: 5
Retrievals: 9778
Vistor Rating: 1.0
Votes: 1
History
History information is some background and history about the location. This is meant to be a basic summary. Below the history records you will find sources in which you can click on to find out more information. There may be multiple history records per location.
---
Born in the nearby community of Farmdale, Clarence Darrow was the son of a cabinetmaker. Together with his family, he moved to the octagon house in 1864 at the age of seven and lived in it until the family moved out of state circa 1873. Darrow became a nationally prominent lawyer in his adulthood, and he remembered the octagon house as his home during his most significant childhood years, at a time when his interest in the law was leading him into activities such as running mock trials with his friends. Darrow's final visit to the house occurred in 1936, two years before his death.
Constructed circa 1854, the Darrow House is typical of octagon houses, a short-lived popular passion during the middle of the nineteenth century; its leading proponent, Orson Squire Fowler, advocated their construction as a means of providing superior housing for the poor, and the design allowed for the interior space to be used more efficiently. The Darrow House is primarily a wooden building; the walls are chestnut, with concrete used for chinking. There are seven rooms inside, and much of the original woodworking (for example, the cupboards) survives, as well as the original fireplaces and mantels. The first story of the house is surrounded by a prominent porch, which is absent from only one of the eight sides. Windows are centered in the sides on both stories, and a chimney protrudes from the center.
In September 1971, the Clarence Darrow Octagon House was listed on the National Register of Historic Places, just one week after the same distinction was awarded to Kinsman's Congregational-Presbyterian Church and Dr. Peter Allen House. It is one of seven Ohio octagon houses on the National Register; most were built circa 1860, although "the Octagon" in Tiffin dates from 1852. Unlike the other houses, which qualified for the Register because of their architecture, the Darrow House was deemed eligible solely because of its famous resident. A state historical marker was placed in front of the house in 2000.
Added by: sdonley on 01/07/2020 DB#:554
Source(s):
https://en.wikipedia.org/wiki/Clarence_Darrow_Octa...

---
Stories
Stories are just that. Stories and personal accounts that have been reported about the location.
---
We do not have any paranormal claims for this location. If you know or are aware of any, please let us know. Until then, this location is listed as Historical.
Added by: sdonley on 01/07/2020 DB#:1553
Source(s):
S. Donley

---
Paranormal Claims
Here are the paranormal claims for this location. These have been found through Internet research, reports from members, or reports from personal interviews. To add a claim, please contact PANICd.com, and we will review and add your information.
---
No Claims Yet!
Paranormal Evidence
Paranormal evidence is based on claims that have been reported for this location. There can be several types of evidence; however, we have grouped them based on media type for better organization. Here you will find evidence that are logs, audio, video, or photographic.
To add evidence for a claim, you must submit it to PANICd.com for approval to be entered into the database.
---
No Evidence Reported Yet!
Additional Resources
This is a collection of Internet resources for this location. This section will house links to other websites that contain information related to history, claims, investigations, or even the location's website.
---
Wikipedia Entry
Added: 01/07/2020 By: sdonley
Wikipedia entry for this location.
Developers Reconstruct and Update Historic Kinsman - Business Journal Daily
Added: 01/07/2020 By: sdonley
KINSMAN, Ohio -- "Kinsman is a quiet, peaceful and picturesque spot. The landscape is gently rolling, the soil is fertile, beautiful shade trees line the streets, and a lazy stream winds its way into what to us boys was the far-off unknown world," writes Clarence Darrow.
LandmarkHunter.com | Clarence Darrow Octagon House
Added: 01/07/2020 By: sdonley
Information about the location, see link for details.
Octagon House (circa 1858)
Added: 01/07/2020 By: sdonley
Now a private residence, this unique eight-sided house, which contains eight trapezoid-shaped rooms, was the boyhood home of Clarence Darrow, the nationally acclaimed lawyer in the famous Scopes-Monkey Trial (evolution in schools)
Facebook Page
Added: 01/07/2020 By: sdonley
Information about the location, see link for details.