Austine School for the Deaf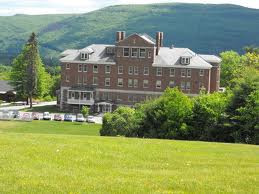 Location submitted by:
sdonley
on 05/14/2012
DBA Approved: Y
PANICd#: 1093
In 1904, after retiring in Brattleboro, U.S. Army Colonel William Austine left a generous bequest that became the seed for a special school for Vermont's blind and deaf students.
600 Austine Dr
Brattleboro , VT 05301
Phone: 802-258-9520
Open to the public: Unknown
Lat: 42.84305
Lon: -72.57522
Database Summary:
Demographic Rank: 6
History: 1
Stories: 0
Claims: 4
Evidence: 0
Resources: 0
Retrievals: 1792
Vistor Rating: 0.0
Votes: 0
History
History information is some background and history about the location. This is meant to be a basic summary. Below the history records you will find sources in which you can click on to find out more information. There may be multiple history records per location.
---
In 1904, after retiring in Brattleboro, U.S. Army Colonel William Austine left a generous bequest that became the seed for a special school for Vermont's blind and deaf students. That same year, the Vermont Legislature chartered the Austine Sanatorium, which in 1908 would be rechristened the Austine School.

The Vermont General Assembly voted to purchase a 200-acre farm, and in the fall of 1912, the Austine School opened with sixteen students. Two years later, Austine's first commencement address would be delivered by Alexander Graham Bell.

From 1917 onward, the Austine School focused exclusively on educating deaf children. During the late 1950s and early 1960s, rubella epidemics led to dramatic increase in a need for deaf education and thus the school expanded. The Vermont Legislature and private funding facilitated the construction of a new elementary school in 1955, and in 1968 Austine began offering high school diplomas.

In 1970, the construction of Vermont Hall upgraded the dormitories for the younger children, added administrative offices, as well as a modern kitchen, dining room, and health facility.

In 1975 the Education for All Handicapped Children Act was passed, greatly impacting how children with special needs would be educated. Over the next two decades as public schools began struggling to accommodate deaf and hard of hearing students within mainstream classrooms, Austine School experts were increasingly called upon to help school systems and families achieve their educational goals.

Thus in 1998, the Vermont Center for the Deaf and Hard of Hearing was created to provide statewide, location-based support for deaf education through a statewide consulting network. The additional programs the Austine School had created over the years to meet the needs of the deaf community beyond the classroom now became part of the family of programs at the Vermont Center.

In recent years, the Austine School (like other deaf schools throughout the country) has recognized a marked increase in the percentage of its students who face multiple physical and educational challenges. In response, the William Center, a residential facility for emotionally disturbed deaf children, was founded as a separate school licensed by the Department for Children and Families and housed on the Austine Campus. And in 2010 the William Center added the Deaf-Autism program, the nationís first residential educational program for autistic children who are physically or functionally deaf.
Added by: sdonley on 05/14/2012 DB#:111
Source(s):
http://www.vcdhh.org/about/mission-and-history

---
Stories
Stories are just that. Stories and personal accounts that have been reported about the location.
---
No Stories Yet!
Paranormal Claims
Here are the paranormal claims for this location. These have been found through Internet research, reports from members, or reports from personal interviews. To add a claim, please contact PANICd.com, and we will review and add your information.
---
| | | | |
| --- | --- | --- | --- |
| Claim # | Added | Added By | Claim |
| 1439 | 05/14/2012 | sdonley | A security guard and other staff members have heard their name being called on different occasions. |
| 1440 | 05/14/2012 | sdonley | Lights will turn on by themselves. |
| 1441 | 05/14/2012 | sdonley | People have reported a sense that they are being followed when there is nobody behind them. |
| 1442 | 05/14/2012 | sdonley | Strange things have been seen in reflections. |
Paranormal Evidence
Paranormal evidence is based on claims that have been reported for this location. There can be several types of evidence; however, we have grouped them based on media type for better organization. Here you will find evidence that are logs, audio, video, or photographic.
To add evidence for a claim, you must submit it to PANICd.com for approval to be entered into the database.
---
No Evidence Reported Yet!
Additional Resources
This is a collection of Internet resources for this location. This section will house links to other websites that contain information related to history, claims, investigations, or even the location's website.
---
No Reources Yet!